Things You'll Need
White sheet - extra long twin - 66 by 102 inches

8 safety pins

5 yard roll of gold ribbon, 1/2 inch wide

String of Christmas garland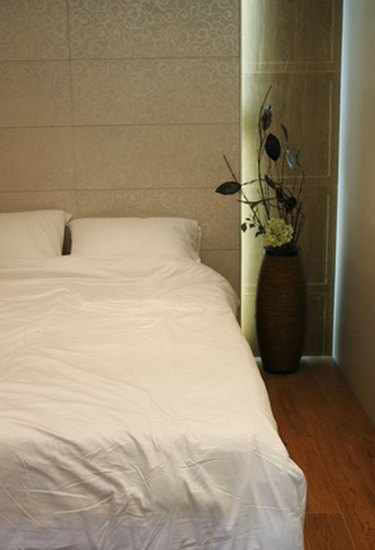 Angels are pretty much a staple for the average Christmas play and some require a heavenly host. So, a quick and easy angel costume can be essential for a working mother or an overworked youth director planning a pageant with a whole choir of angels. A costume that can be made with things your angels can bring from home and put together without cutting or sewing is a Godsend.
Step 1
Wrap the sheet around your body from left to right.
Step 2
Pin the two sides together over your shoulders on either side of your neck near the center.
Step 3
Add three more pins on each side down your arms.
Step 4
Pull it off over your head. Flip inside out so that the pins do not show and pull it back on.
Step 5
Unroll the ribbon and hold it in the center.
Step 6
Fold sheet closed around the side of your body and wrap the ribbon around your waist from front to back, then back to front. Cross ribbon over your chest and over your shoulders. Cross at the back and bring back around to the front. Tie.
Step 7
Clip ends so that they hang to around the hemline.
Step 8
Wrap the garland around your head and tie loosely in the back as a halo.
Tip
Cut wings out of cardboard and decorate them with glue, paint and glitter. Pin them to the back of the costume before you tie on the ribbon. Wings can also be made from cloth covered wire or you can buy a set of wings in a costume shop. Go barefoot or wear sandals. For a more modest look wear over a long-sleeve tee-shirt..