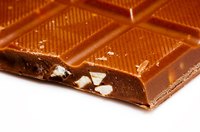 Willy Wonka is the eccentric master candy maker who is the central character in Roald Dahl's book "Charlie and the Chocolate Factory," which was published in 1964. The original film debuted in 1971 and a remake was made in 2005, in which Johnny Depp played the famed candy maker. A Willy Wonka costume is easily recognizable when you incorporate Wonka's brightly colored clothing and trademark top hat. The costume can easily be constructed with many items found in your own home.
Things You'll Need
Plastic sand bucket
Craft knife
Black fabric or construction paper
Glue
Double sided tape
Cardboard
Blazer
Collared shirt
Ribbon
Brightly colored slacks
Cane
Brightly colored gloves
Wonka candy bar
Sunglasses (optional)
Top Hat
Choose a plastic sand bucket that fits on the wearer's head. Then remove the bucket's handle. Trace the top of the bucket onto a piece of cardboard.
Draw another circle around the traced circle that is approximately 6 inches wider in diameter than the traced one.
Cut out the inner, traced circle from the cardboard using a craft knife to enable you to remove the circle without cutting into the rest of the cardboard.
Cut out the wider circle using scissors or the craft knife. You should now have a cardboard ring that fits around the top of a sand bucket.
Cover the top and bottom of the cardboard with black paper or black fabric, adhering the paper with double sided tape or the fabric with glue.
Cover the outside of the bucket with black construction paper or fabric, using double-sided tape to adhere the paper or glue to adhere the fabric, depending on what you chose for the cardboard brim.
Glue the cardboard around the top of the bucket, forming the brim of the top hat.
Wrap a ribbon around the bucket above where it connects with the hat brim and glue in place.
Costume
Wear a blazer in a bright, gemstone color such as red or purple with a collared shirt underneath.
Feed a long ribbon under the collar of the shirt and tie it in a large bow.
Wear a pair of brightly colored slacks, such as gold or silver.
Place brightly colored gloves on your hands and carry a cane in one hand.
Keep a Wonka chocolate bar in your pocket or in your other hand and place the top hat on your head.