Things You'll Need
Orange or yellow sweats

White and pink felt

Fabric glue

Scissors

Jaguar or leopard print fabric

Sewing machine

Stuffing

Headband

Pipe cleaners

Black face paint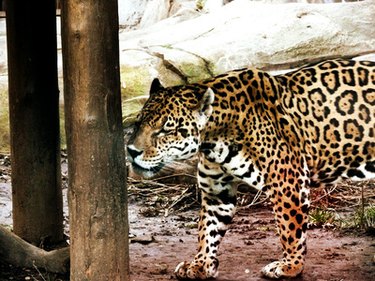 Making a jaguar costume is a simple and fast project. All you need are a few supplies and a sewing machine or needle and thread to sew up the costume's tail. This costume is ideal for colder nights when a thinner costume is not appropriate. You can make the jaguar costume fit a child, baby or even an adult that wants to stand out from the crowd. This costume will take about a day to make.
Step 1
Cut an oval shape from the white felt large enough to cover the front of the sweatshirt top like an animal's belly. Glue the felt to the front of the sweatshirt. Allow to dry for one hour.
Step 2
Cut about four dozen circles from the jaguar fabric about 1 inch in diameter. Glue these randomly over the pants and shirt to make the jaguar spots. Allow to dry for about one hour.
Step 3
Cut a 3-foot long and 5-inch wide rectangle from the jaguar fabric. Turn the fabric wrong-side out and sew the long side together. Turn the tail right side out. Cut a small rectangle of fake fur and sew it to one of the short ends of the tail. Stuff the tail with stuffing. Sew the other end of the tail to the back of the pants.
Step 4
Cut four triangle shapes from the jaguar fabric. Make the ends of the triangles long enough to wrap around the top of the headband. Glue two ears together with right sides facing out. Place a pipe cleaner inside the ears to make them sturdy. Repeat for the other ear. Glue pink felt to the inside of the ears. Glue the ears to the headband. Allow to dry for two hours before allowing the child to wear the costume.
Step 5
Paint a nose and whiskers onto the child's face with face paint to complete the costume.