Things You'll Need
Overalls

Sewing machine

Thread

Scissors

Large fabric swatch

2 straps or ties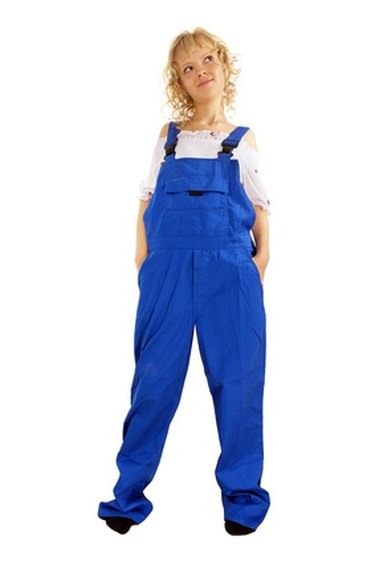 Aprons protect the clothes that you are wearing from spills associated usually with cooking and baking. You can purchase a new apron or make one yourself out of an old pair of overalls. Overall aprons are useful because they have a large number of pockets that are perfect for holding spices, recipes or any other cooking or baking related items. This simple process allows you to create an apron that is unique and creative.
Step 1
Cut the legs of the overalls at the knee or shorter, depending on how long you want your apron to be. Leave about 1/2 inch to make the hem.
Step 2
Cut the overalls along the side seams. Leave the buttons at the top of the overalls clipped or attached.
Step 3
Cut the very bottom of the shoulder straps, where they meet with the main part of the back fabric. You should have two loose shoulder straps that are still clipped to the front of the overalls. Because you cut along the side seams and the shoulder straps, the back fabric piece should be entirely detached. You can throw this away, or re-purpose it.
Step 4
Set the overalls face-down on a table. Place a swatch of fabric in between the two legs to fill in the gap. Make sure that the front of the swatch is facing downward so that it is visible from the front of the apron. Sew that swatch of fabric in place so that the front of the apron is continuous, without gaps.
Step 5
Hem the bottom and sides of the apron. This will give it a finished look.
Step 6
Measure the length of the shoulder straps and determine how long you want the neck strap to be for the apron. Sew the straps together at that length and remove any extra fabric.
Step 7
Sew a piece of fabric or a strap to each side of the apron, about at waist height. These straps will allow you to tie it behind yourself when you put it on, so make sure it's long enough to accomplish its purpose.
Tip
You can add extra pockets, patches, fabric swatches, designs or buttons to this apron to make it more personal. You can replace the shoulder straps entirely if you want something more colorful. Just remove the straps and sew on a piece of cloth in its place. Make sure the cloth is long enough to fit comfortably over your head.