Things You'll Need
Screwdriver

Sawhorses

Painter's tape

Masking paper

Drop cloths

Abrasive sponge

Detergent

Wood putty

Putty knife

Sandpaper or sanding sponge

Brush

Primer

Paint

Mineral spirits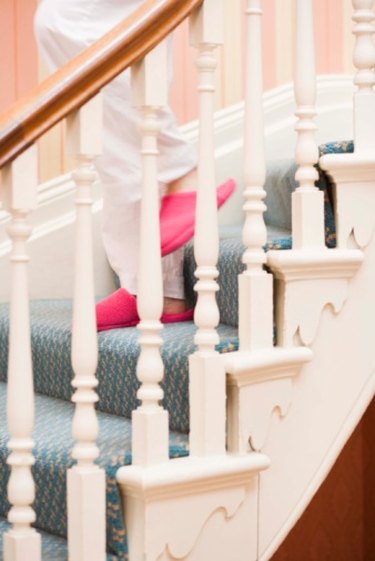 Banisters and handrails get a lot of use, and over time varnish becomes rubbed, worn and scratched. Refinishing varnished wood is quite a lengthy task, but painting it requires fewer steps. However, you can't simply slap a couple of coats of paint over a varnished banister, or any varnished surface, and expect it to last. The surface has to be cleaned and sanded, then primed before painting, otherwise the paint will scratch right off the shiny surface.
Step 1
Remove the banister, if possible. If it's screwed to metal railings, or attached by brackets to a wall, you should be able to unscrew it from below. Prop it on a work bench or sawhorses.
Step 2
Mask adjacent surfaces, such as railings or the wall, if you can't remove the banister. Use painter's tape and masking paper, and protect the floor beneath the banister with plastic sheeting or drop cloths.
Step 3
Clean the varnished surface with detergent and an abrasive sponge. If it's very grimy, or you suspect it's been waxed or oiled, use a grease-cutting detergent such as trisodium phosphate to remove surface oils.
Step 4
Fill cracks, dents and joints with carpenter's wood putty. Use a flexible putty knife for flat areas, and use your fingers to fill gaps and holes on curved or rounded parts of the banister. Allow it to dry; most types dry in about an hour.
Step 5
Sand the banister with fine-grit sandpaper or a sanding sponge. The aim isn't to remove the varnish, but to make it smooth and dull so the primer will adhere properly.
Step 6
Prime the banister with either a shellac- or oil-based primer, or with a high-quality water-based stain-blocking primer. Use a 2- or 3-inch brush, and brush along the length of the banister as much as possible, instead of across the surface. Allow the primer to dry.
Step 7
Paint the banister with two coats of satin or semi-gloss paint in the color of your choice. A good quality water-based paint will equal or exceed oil-based paint in durability and is easier to use.
Step 8
Remove the tape and masking materials after the banister has dried for at least four hours. If you removed the banister for painting, wait at least 24 hours before replacing it.
Tip
If priming the banister a deep or bright color, ask the paint store to tint the primer for you.
Warning
Clean up paint spills and drips immediately, especially when using solvent-based primer or paint. Use mineral spirits for solvent-based paint and water for water-based paint.