Things You'll Need
Fabric measuring tape

Paper

Pencil

Scissors

Pins

Old leather jacket

Lining fabric, medium-weight

Tailor's chalk

Rotary cutter

Sewing machine

Thread

Bamboo mat

Roll of wide ribbon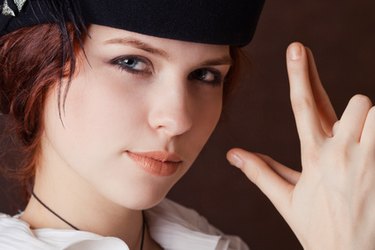 Swashbuckling pirates leap from romance stories and legends to capture our imaginations year after year. Though women pirates were rare, today the female pirate costume is common on Halloween and at Renaissance fairs. Pirate costumes for women are versatile, allowing for pants or bloomers rather than a heavy skirt, but they still include a corset to show off feminine curves. Corsets, with their laces and boning, can be complicated to make from scratch, but making a pirate wench's corset that falls under the bust is a little less labor-intensive.
Step 1
Take your measurements under your bust and at the narrowest point of your waist. Transfer these measurements to a sheet of paper. Use the measurements to create a simple sleeveless under-bust corset pattern from tracing paper. Cut out the pattern. Fit the pattern around your waist again to check for fit and comfort.
Step 2
Lay the fabric of the leather jacket and the lining fabric flat. Transfer the pattern onto both the jacket and the lining, and cut out the pieces with a rotary cutter.
Step 3
Pin the leather and lining fabric together, right sides facing out. Baste together along the bottom edge of the waist with a 1/4-inch seam allowance. Run the stitching along the back center on each side, working from the bottom to the top.
Step 4
Separate the bamboo shafts in the mat to make your boning. On the inside of the corset, mark channels to hold the boning. Make a symmetrical series of channels along each side of the bodice. As long as channels are symmetrical, the exact number and placement is not important. Make each channel slightly wider than the bamboo shafts. Sew straight lines along the marks, in the same direction for each casing, from top to bottom or from bottom to top, to avoid wrinkling the fabric. Cut bamboo to length and insert it into the channels.
Step 5
Finish all edges by folding the ribbon over the raw edges and stitching in it place with a 3/8-inch seam allowance.
Step 6
Fold in the two ends of the corset where they meet at the front of the waist, about 1 1/2 inches. Sew two parallel lines an inch apart along each edge, running from the top to the bottom.
Step 7
Cut four horizontal slits down the seams on each side of the corset. Thread the ribbon through the corset to lace it up. Tie a bow if desired, and leave generous lengths of ribbon on either side when corset is fully laced. A ribbon cut too short will be difficult to lace up.