Things You'll Need
Fabric permanent adhesive

Appliques

Sewing needle

Transparent thread

Fabric

Stick pins

Scissors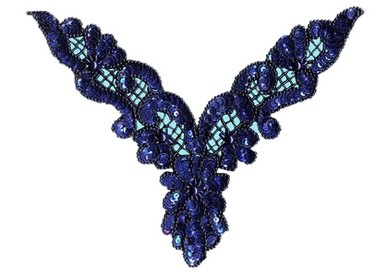 Fashion changes fast and styles come and go. Change clothing you already have in your closet into something new by adding a few sequined and beaded appliques. Whether you decide to update your favorite jacket or that old purse stuck in the closet, you can add instant glamour to any fabric in just a short period of time. Available in a wide variety of styles, designs and colors, the hardest part is deciding which appliques to use.
Step 1
Choose your applique. Try to match your applique to your fabric. Keep to the same tones and colors. Most beaded and sequined appliques are created on a mesh background that matches the color of the applique itself. Matching the mesh to the fabric will allow it to blend into the fabric and disappear from sight. For example, a white applique would show the mesh on a dark background but not on a light fabric.
Step 2
Lay out your fabric project and smooth out any wrinkles. If possible, run an iron over the surface to make sure it lays flat. Place your appliques on the fabric and move them around until you are happy with the design placement. Mark the area with small stick pins.
Step 3
Apply fabric adhesive to the back of the applique. Using a small amount of the adhesive in solid sections of the applique and around the edges will help bond the applique to the fabric and keep it safe through cleaning. Turn the applique over and lay in place on the fabric according to the design you created. Press down gently and allow to set.
Step 4
Thread the sewing needle with the transparent thread. Tie a knot at the end of the thread. Bring the needle and thread up from the underside of the fabric at the edge of the applique. Place anchor stitches every 1/2 inch around the outside of the applique. If the applique is large, place additional anchor stitches in select places throughout the applique. The transparent thread will allow you to place the anchor stitches without them being seen.
Warning
Some fabric adhesives, especially the spray type, could be toxic and should only be used in a well-ventilated area.