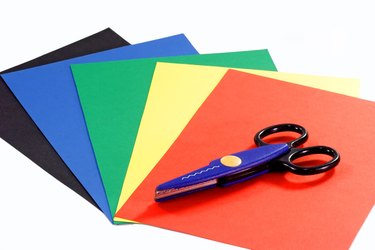 If your children like to draw or write, you may have a hard time keeping up with their paper demands. Instead of purchasing journals and sketchpads, use construction paper to make simple DIY versions. Stock up on packages of construction paper so you can make blank books that suit your kids' creative style. Make a simple staple-bound book for your prolific sketcher or a decorative, ribbon-bound book to hold a young author and illustrator's finished story.
Staple-Bound Book
A basic staple-bound book requires no measuring or cutting. Choose a piece of 9-by-12-inch colored construction paper for the cover and fold it in half width-wise. Fold a few sheets of white construction paper the same way, and tuck them inside the cover -- but don't add more pages than your stapler can handle. If you have a long-armed stapler, use it to insert two or three evenly spaced staples along the fold. If your stapler isn't long enough to reach the center of the book, close the book and place staples along the outside of the folded edge. To give the book a finished look, conceal the staples with a strip of decorative tape.
Ribbon-Bound Book
A ribbon-bound book is almost as easy to make as a staple-bound book, but it's a bit fancier. Fold sheets of construction paper in half width-wise to make the cover and pages; open the book, and punch a hole about an inch from the top and one an inch from bottom through the cover and pages. Thread a piece of narrow ribbon or yarn through the holes and tie it in a bow on the outside. Alternately, close the book and punch holes at the top and bottom of the folded edge, and then thread ribbon through the holes and tie it in a bow on the front of the spine. To prevent the holes from tearing, protect them with reinforcement labels from an office-supply store before you add the ribbon. Use pinking shears to give the edges of the cover a pretty finish.
Brass Fastener-Bound Book
If you want to make a large construction-paper book that's expandable, use full sheets of construction paper and brass fasteners. Choose brass fasteners with a high capacity; some can hold up to a 3-inch thickness of paper. The fasteners should have 1/2-inch heads so they don't slip through the holes made by the paper punch, which are usually 1/4-inch in diameter. Use a three-hole punch to make evenly spaced holes on one edge of each sheet of paper. To divide the book into sections, place a few sheets of colored paper between groups of white pages. Protect the punched holes with reinforcement labels, and then insert the brass fasteners and spread the prongs out on the back of the spine.
More Construction-Paper Book Ideas
White construction paper is a good medium for crayon and marker drawings, but lined paper is better for printing with pencil. To make a simple journal for a young writer, fold a 12-by-18-inch sheet of construction paper in half width-wise, and use staples or brass fasteners to secure sheets of ruled filler paper inside. You can also use 12-by-18-inch construction paper to make a big book that several children can work on together. Just staple large sheets of white construction paper between two colored covers. If your child prefers a small book that can be tucked in a pocket, cut construction paper into 3-by-6-inch pieces -- one from colored paper for the cover and a few from white paper for the pages. Fold the pieces of paper in half width-wise, and staple the pages inside the book.