Things You'll Need
Oversized, knee-length white tee-shirt

Scissors

Needle and thread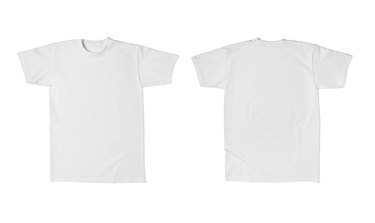 Wilma Flintstone, the long-suffering wife of suburban caveman Fred Flintstone, was a part of generations of Saturday mornings for children all over the country. Since its debut on September 30, 1960, "The Flintstones" entertained adults and children alike. Wilma's signature red hair and off-the-shoulder fur frock are immediately recognizable by fans everywhere.
Step 1
Cut both sleeves off at the seams.
Step 2
Flip the shirt inside-out.
Step 3
Sew up the hole where the right sleeve was.
Step 4
Turn the shirt right-side out.
Step 5
Cut the collar from the neck of the shirt.
Step 6
Cut the bottom edge of the shirt into jagged points.
Step 7
Cut a 2-inch strip off one of the cut-off sleeves.
Step 8
Cut the strip into a series of connected, rough circles. This is Wilma's stone necklace. Pull it on over your head.
Step 9
Put on the shirt with your left arm through the left armhole and your head and right arm through the neck hole.
Step 10
Go barefoot or wear flip-flops