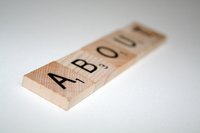 Scrabble tile pendants make lovely gifts and can be a nice addition to a craft fair booth. They are inexpensive to create and lightweight. One challenge that you will come against when creating a Scrabble tile pendant is finding pictures to fit on the face of the Scrabble tile, which measures 0.75 inches by 0.82 inches. There are several methods to acquire images of this size.
Things You'll Need
Photos
Computer with scanner, printer and desktop publishing program
Scrabble tile
Scrapbook or decorative paper
Craft blade
Look through your personal photo collection to choose photos that will work for Scrabble tile pendants. Animals and flowers make good choices; patterns and colors, such as sunsets and clouds also work well. The pictures need to be clear and have good color contrast, since you will be reducing them to a smaller size.
Scan or load the pictures into your computer. Open them in your desktop publishing program.
Reduce each picture to 0.75 inches by 0.82 inches. Save them in a folder where you will be able to find them easily. Use the program's "zoom" feature to make sure each picture still has good resolution and the pixels look right.
Open a new blank file for an eight by ten inch project. Insert each picture onto the blank page. Create several rows of pictures that you have re-sized, making sure they remain the correct size.
Check your printer settings to make sure you are printing the page as is, with no size changes. Set your printer to the highest quality setting.
Print out your page and hold up a Scrabble tile to each picture to make sure you have printed them in the right size.