Things You'll Need
Tape measure

Black felt or imitation fur fabric

Scissors

2 ribbons, 1-inch wide and 8- to 12-inches long

Needle

Black thread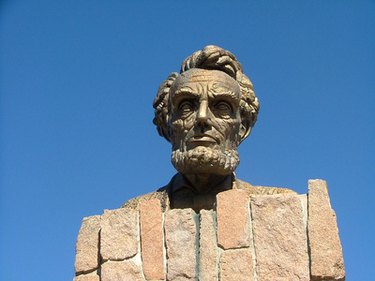 When it is dress up time for Halloween, the school performance or just imaginative play at home, costumes and accessories can help spark your child's imagination and get him into character. If your child wants a President Abraham Lincoln costume, one key parts is the black beard he wore.
Step 1
Measure across your child's face from the start of one earlobe to the start of the other. Cut a rectangle of fabric the measured width, approximately 5 inches tall.
Step 2
Lay the fabric on your work space in front of you horizontally. Cut a vertical slit, 1 inch from the left side, approximately 2 inches long from the top edge of the felt down. Cut an identical vertical slit on the right side. These 1-inch strips will be Lincoln's sideburns.
Step 3
Cut the section of fabric between the two sideburns by cutting straight across the fabric. You'll have a long, rectangular notch across the top of the felt, and 1-inch wide strips on each side.
Step 4
Turn the fabric wrong-side up. Lay the cut end of a piece of ribbon on one protruding strip. Fold the end of the strip over to cover the ribbon. Stitch it to secure the ribbon.
Step 5
Put a second piece of ribbon on the protruding strip on the opposite side. Fold the edge of the strip over the ribbon and stitch it into place.
Step 6
Hold the beard up by the ribbons. Try it on the child by tying the ribbons behind his head. The strips with the ribbons should come up just beside the ears, like side burns, while the rest of the beard will wrap around the face below the lip.
Step 7
Trim the length of the beard, if necessary.
Tip
If you prefer not to sew, secure the ribbon with dabs of hot glue.