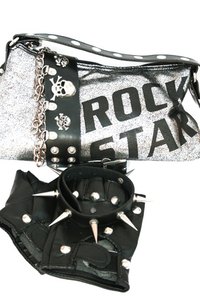 If you're looking to party like a rock star, it's only fitting that you dress the part. Creating a homemade rock star costume is a fairly easy task that simply requires you to stand out from the crowd. While there's not a standard uniform for a rock star, the clothing is on the cutting-edge of style and often on the outrageous side. To make a rock star costume, you can find clothes in your closet and transform them so that you're hip and ready to perform on stage at a moment's notice.
Things You'll Need
Tightly fitted T-shirt
Glue
Sequins or glitter
Leather pants or ripped jeans
Markers
Accessories
Search through your wardrobe for a fitted T-shirt. A brightly colored T-shirt that is one size too small and well-worn is ideal. The grungier your shirt, the better to fit the mold of a contemporary rock star.
Apply sequins or glitter to your T-shirt with glue to add an element of sparkle. Or you can write phrases with glitter or sequins.
Use scissors to add rips to a pair of tightly fitted stonewashed jeans. Place them in the wash to create ragged strings and edge for a punk-rocker style. Fitted leather pants or any pants with shiny or glittery materials without rips are also appropriate.
Use markers to draw tattoos on any exposed parts of your upper body. Skulls, bones or music symbols are often common rock star tattoos.
Add accessories such as a spiked choker, heavy bracelets, one long dangling earring or cut-out gloves to complement your look. Sunglasses are also an essential accessory for a rock star.
Choose boots for footwear--from a motorcycle boot to a high-heeled style.