Things You'll Need
15 3-oz. Dixie cups

Awl

Cord, 36 inches

Scissors

16 pony beads

Gray spray paint

Black marker

Grey half-mask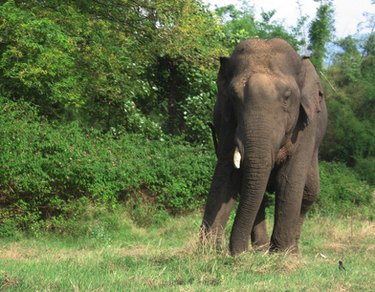 Create an elephant trunk that really moves. Use Dixie cups to make an elephant mask that will be the talk of any costume party. Wear it and imitate your favorite football team's mascot or make two for a Noah's ark themed party or pageant. This mask is quick and easy to make with inexpensive and easily obtained materials.
Step 1
Poke a hole on the center of the bottom of one cup. Cut a 36-inch piece of cord. Knot one end of the cord and thread a pony bead on it. Thread the cup onto the cord with the bottom resting on the bead.
Step 2
Lay the cups out with the open side up and paint them with spray paint. You do not need to paint the inside of the cup, just the sides and edges. Also paint the bottom of the cup currently on the cord to make the end of the trunk. Let the cups dry for an hour. Apply a second coat if needed.
Step 3
Draw two black ovals for nostrils on the cup with the painted bottom.
Step 4
Tie a knot in the cord 1-1/4 inch above the bottom of the first cup on the cord. Thread another bead and another cup with a hole cut in the middle of the bottom onto the cord. This cup will rest about half way inside the first cup.
Step 5
Continue knotting the cord and adding beads and cups until you have threaded all the cups onto the cord. Thread a bead onto the cord so that it rests against the bottom on the inside of the last cup. Knot the cord close to the bead and cut off the excess cord.
Step 6
Place the last cup you strung on the cord over the nose of the half-mask. Staple it to the mask on each side of the mask just above the nose. You will have to bend the edge of the cup to do this.
Tip
If desired, cover the bottom of the cup on the end of the trunk with grey paper to hide the bead. Draw the nostrils on the paper.