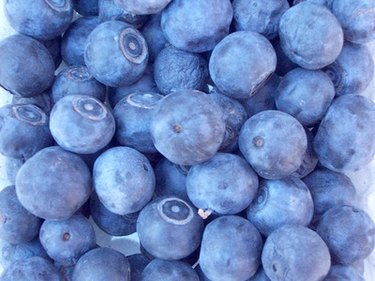 Topped with vanilla ice cream, a bit of whipped cream or all by itself, blueberry pie makes a simple and delicious dessert. This southern classic tastes best if made with fresh blueberries. Regardless of the filling recipe you use, you can prepare and freeze the leftovers with little effort, to enjoy in another pie later. Freeze your extra uncooked crusts, too, to make baking your next pie even quicker.
Step 1
Ladle the blueberry pie filling immediately after cooking it into plastic freezer containers. Leave a 1/2 inch from the top of the filling to the top of the container edge.
Step 2
Cool the blueberry filling to room temperature. Don't leave the filling out for more than two hours.
Step 3
Seal and label the plastic containers and place them in the freezer. You can freeze blueberry pie filling for up to four months.
Tip
You can also shape extra uncooked crusts in their pans and freeze for future use. Cover the pans tightly with at least two layers of freezer-safe plastic wrap to prevent freezer burn.