Things You'll Need
White felt

Pink, mid-calf-length, full-skirted, 1950s-style skirt

Black card

Pink paper

Compass

Earring hooks

White petticoat

White, fitted, short-sleeve blouse

Pink cardigan

White bobby socks

Pink sneakers

Hair band

Pink ribbon

Pink scarf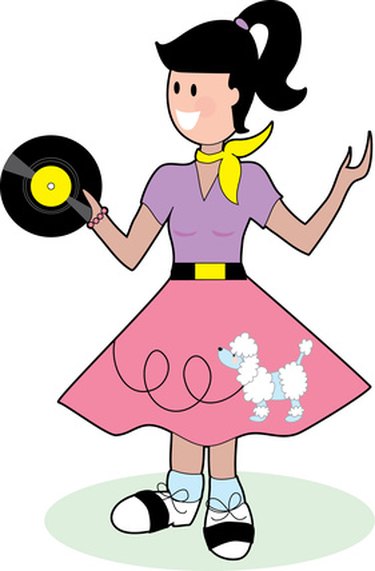 In the 1950s, following the rationing of material during the Second World War, Christian Dior revolutionized the fashion world by designing full, calf-length skirts that used a lavish amount of fabric. His look was central to the decade's styles and influenced the glamorous evening gowns worn by Grace Kelly and Audrey Hepburn as well as the more casual poodle skirts of the era. The latter were worn with pretty blouses, sweaters and cardigans, and they form the foundation of a cute and easy-to-make 1950s costume.
Step 1
Draw a 6-inch-high poodle dog on a piece of white felt. Cut it out.
Step 2
Glue the felt poodle to a full pink skirt. Position it on the lower right-hand portion of the skirt about 3 inches from the bottom.
Step 3
Draw a 2-inch-diameter circle on a piece of black cardstock, and cut it out. Draw a 1/2-inch circle on a sheet of pink paper, and cut it out. Glue the pink circle in the center of the black one.
Step 4
Pierce a small hole near the top of the card circle with a compass. Open the small clasp of an earring hook, and thread it through the hole. Fasten the clasp back up. When you wear this earring, the side of the card circle with the pink circle on it must be at the front.
Step 5
Repeat Steps 3 and 4 to make another earring. Put the pretend vinyl earrings in your ears.
Step 6
Pull on a white petticoat, and put your skirt on over the top. Pair it with a fitted short-sleeve white blouse and pink cardigan. Add a pair of white bobby socks and pink sneakers (ideally canvas).
Step 7
Fasten your hair in a high ponytail with a hair band. Tie a ribbon into a bow around the base of your ponytail, and tie a pink scarf around your neck.
Tip
Swap pink for another color if you wish - pastel yellow, pastel blue, red and black are all appropriate choices. Look in second-hand and vintage fashion stores for a 1950s-style full skirt. Vintage fashion stores often sell petticoats, too.