Things You'll Need
Fabric, 1 yard per chair

Tulle or ribbon, 4 yards per chair

Scissors

Measuring tape

Sewing machine

Thread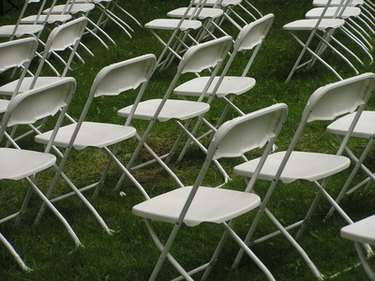 Folding chairs or plain chairs may look too drab for your wedding. You can make them more appealing by covering them with fabric covers or bows. Use fabric in the colors of your wedding to coordinate with ribbon or tulle that drapes down over the back of the chair. These covers are simple and quick to make; each can be made in less than 30 minutes.
Chair Covers
Step 1
Measure the back of the chair. Note the width and the height from the top of the back to the seat of the chair.
Step 2
Cut out two pieces of fabric for each chair, adding 1 inch to the width and height to account for seams when sewing.
Step 3
Lay two pieces on top of each other with the right sides together. Sew a half-inch seam along the top and two sides.
Step 4
Turn the cover right side out and fold the bottom edge in half an inch. Sew it down close to the fold. Slide the cover over the back of the chair.
Bows
Step 1
Cut a length of tulle roughly 4 yards long. It should wrap around the chair back and hang almost to the floor.
Step 2
Wrap the tulle around the chair back, tying it in a knot at the back of the chair. The tails of the tulle should fall down the back of the chair.
Step 3
Trim the tulle into points at the end.
Tip
You can use wide ribbon instead of tulle. Tie the tulle or ribbon into a large bow if you prefer more poof on the back of the chair.