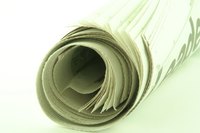 Paper mache projects are ideal to do with your child one on one or in an art class. You can make pinatas, masks or decorative animals. A pig can be a great starter craft since it has a round shape, similar to a basic balloon. Once you become more experienced, you can create other animals by attaching multiple balloons. A main component of the paper mache process involves layering newspaper strips on an object. The nontoxic ingredients and simplicity of this project will allow your child to have hands-on involvement.
Things You'll Need
Water
Measuring cup
Wooden spoon
Bowl
Flour
Glue (non-toxic)
Balloon
Newspaper
Scissors
2 toilet paper rolls
Tape
Cardboard
Poster paint
Small paintbrushes
Pipe cleaner
Paper Mache
Pour two cups of water into a large mixing bowl.
Add in a half cup of flour. Mix thoroughly, slowly adding in a few drops of white glue. Keep stirring until there are no lumps in the mixture.
Blow up a balloon. Use a balloon large enough so it can work as the main body of your pig.
Lay newspaper down on the surface you will work on and place the balloon on top.
Cut toilet paper rolls in half so you have four tubes. Tape each securely to the bottom of your balloon. These will act as the pig's feet.
Bend or cut cardboard into two triangles. Tape these to the top of the balloon. These will be the pig's ears.
Rip pieces of newspaper into large strips.
Soak newspaper strips one at a time in your paper mache mixture. Take each piece and begin to cover the balloon and cardboard. Press down on each piece so it is smooth and flat. Don't be afraid to get your hands a little dirty.
Let your project dry for at least 12 hours.
Time to Decorate
Paint your pig its base color. Use pink paint for a traditional pig or let your child get creative by making the pig a different color.
Draw a snout and eyes on the pig's face using dark-colored paint.
Use a pipe cleaner to poke a hole in the backside of the pig. Don't be afraid of popping the balloon. It already may have deflated. The balloon is no longer important once your paper mache mold is dry. Bend the pipe cleaner so it stays in the pig and twist the end so that it is curly, representing the pig's tail.
Allow the paint to dry. Begin your clean up and in a few short hours, your pig will be ready to enjoy.