Things You'll Need
Collapsible metal shelves

Spray paint

Wooden fruit baskets

Hat tree

Wooden crates

Old window frame with shutters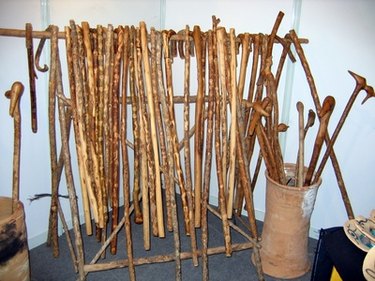 When designing a booth for a craft show, two of the most important factors are making the most of your space and catching the customer's eye. When competing with several, perhaps hundreds of other crafters, your booth should look attractive and stand out. Another important aspect of display shelving is that it is lightweight, durable and easy to tear down and set up. There are many inexpensive ways to build appropriate shelving for a craft booth.
Step 1
Consider the product you are selling. If your crafts are more rustic in nature, such as hand-painted signs, choose farm-related materials, such as old fencing and chicken wire. If you are selling jewelry, stainless steel and glass is appropriate materials for displaying your wares.
Step 2
Scour thrift stores and garage sales for baker's racks and other collapsible metal shelving. These are lightweight and simple to modify for various types of merchandise. Tie two metal shelves back-to-back for a two-sided display. Spray paint the shelves with metallic paint found at a craft store if you need a different color.
Step 3
Hang wooden fruit baskets from a hat tree to create holders for stuffed animals, crocheted hats and other small handcrafted items.
Step 4
Stack plain wooden crates at various levels to create tabletop displays for pottery, bath salts and other products.
Step 5
Find an old window frame with shutters and remove any loose or flaking paint with sandpaper. Repaint if desired. Use as a display rack for earrings and necklaces, hanging the jewelry from the shutter slats.
Step 6
Design your display racks so that they are at eye-level. The customer needs to be able to get a good view of everything without having to crouch down or crane her neck upward.