Things You'll Need
Stencil

Spray adhesive or liquid craft glue

Glitter

Paintbrush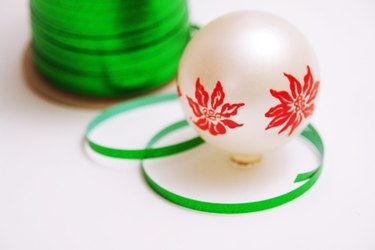 Glitter can be used to add a little sparkle to your craft projects or a little pizazz to your favorite items. Children often use glitter to decorate homemade cards or to label Christmas stockings, but glitter actually can be applied to a multitude of surfaces. Metal objects, such as Christmas ornaments or bicycles, also can be coated with glitter. Applying glitter takes only a few minutes and can transform plain metal into a sparkling wonder.
Step 1
Tape any stencils, you plan on using, to your metal object. For example, you may have a Christmas stocking stencil for use on the front of a Christmas ornament, or you may have a stencil that reads "Princess," which you want to attach to the side of your bicycle.
Step 2
Spray adhesive over the stencil, if you are working on a large metal object. Smaller metal objects will require that you apply craft glue with a paint brush.
Step 3
Sprinkle your glitter over the stencil. You can use one color or a multitude of colors.
Step 4
Remove the stencil, and wait for the glue and glitter to dry.
Step 5
Brush over the area, lightly, using a clean dry paintbrush to remove any loose glitter.
Tip
Consider using a sealant on the metal to keep the glitter in place for a longer period of time.
Use brush-on glitter, if you want your ornament to have a snowy appearance.
Warning
Apply the glitter outside or over a few sheets of newspaper, as some of it is bound to end up on the ground around your metal object.