Things You'll Need
3 yards of white, linen-like material

2 yards of trim or ribbon , purple or with a Greek key pattern

About 12 small Greek coin-like charms

Piece of costume jewelry chain big enough to go around your head

Piece of costume jewelry chain big enough to go around your upper arm

Needle nose pliers

Wire cutters

Attractive broach

Gold sash, belt or cord

Pair of simple sandals

2 pairs leather boot laces

Hair ribbon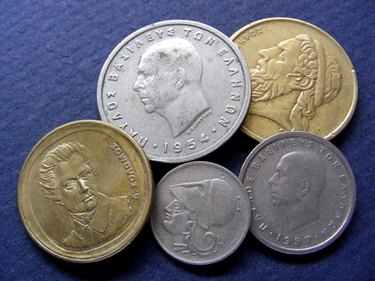 The Ancient Greeks wore very simple clothing. They were mostly rectangles of cloth draped onto the body and given shape with girdles and pins. This was especially true of the Spartans. Although a Spartan Queen such as Gorgo would have worn a few more accessories, she would not have dressed too differently from her subjects.
Chiton
Step 1
Cut the material to the height of the wearer plus 12 inches and to the width of the wearer's full open arm span.
Step 2
Sew trim across the back of the top edge and the front of the bottom edge.
Step 3
Fold the top 12 inches to the front. You can now see both top and bottom trim.
Step 4
Wrap it around the body, under the arms, from one side to the other.
Step 5
Pull it tightly under one arm and pin it over the other shoulder with the broach.
Accessories
Step 1
Link the ends of the short chain together, making a circle, with needle nose pliers.
Step 2
Attach the charms evenly around the chain. Wear it on your upper arm opposite the broach.
Step 3
Link the ends of the longer chain together, making a headband.
Step 4
Attach three or four charms to the center 3 inches or so of the headband. Wear it with the charms dangling across the forehead. Tie the hair up loosely with ribbon.
Step 5
Tie boot laces to back strap of each sandal and wind them up your leg in a criss-cross pattern. Tie them at the knees.