Things You'll Need
Snaps and eyelets

Eyelet and snap punch

Fabric

Marking pencil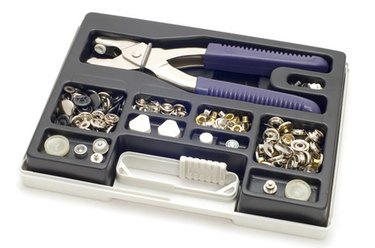 Adding eyelets and snaps to finished fabric pieces is done using a tool called an eyelet and snap punch. This punch comes in many different varieties, however the pliers' eyelet and snap punch tool is readily available in hobby and discount stores. This version of the tool has a plastic rotating wheel for eyelets and snaps. The cup is for the snaps and the metal punch is for the eyelets. The rotating wheel can lift and turn to change the tool for eyelets and snaps.
Snaps
Step 1
Mark your fabric where you will be inserting the snap using a marking pencil. Make sure to mark the side for the ball and the side for the socket.
Step 2
Set the tool so the plastic cup is under the metal cup. Place the rubber rings that came with the tool over each of the cups.
Step 3
Place one of the pronged pieces in the plastic cup prongs upwards. Snaps have four pieces, two rings with prongs, the ball and socket. Put the socket in the metal cup with the raised part facing out.
Step 4
Center your pliers over the mark on your fabric. The pronged ring should be on the outside of your fabric as this will be the decorative part of the snap.
Step 5
Squeeze the pliers together firmly.
Step 6
Place the other ring with prongs in the metal cup, prongs side out.
Step 7
Insert the ball of the snap in the plastic cup with the ball side down inside the cup.
Step 8
Center the pliers over your mark with the plastic side over the outside of the fabric. This way, the ball will be positioned with ball on the outside so it can snap into the socket on the inside of the other side of the fabric.
Step 9
Squeeze the pliers together firmly.
Eyelets
Step 1
Mark the fabric where you would like to insert the eyelet with a marking pencil.
Step 2
Rotate the plastic base on the pliers so the metal punch side is lined up with the metal socket.
Step 3
Place the eyelet over the punch with the top facing down.
Step 4
Center the pliers over the mark for the eyelet with the inside of the fabric facing up and squeeze the handles. This will punch a hole for the eyelet and set the eyelet at the same time.
Tip
Practice on scrap fabric so you can get a feel for how your tool works.