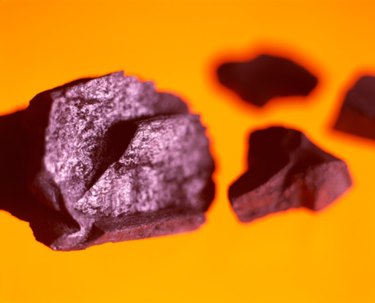 Coal is known as a universal heating fuel and the traditional gift Santa bring to naughty boys and girls at Christmas. A variety of coal crafts abound, from simple to elaborate. For those interested in seeing coal used in artistic ways beyond the traditional "lump of coal in the stocking" or coal-related candies and cookies, there are also elaborate ways to carve coal crafts into impressive works of art.
Lump of Coal from Santa
Give those on your "naughty list" lumps of coal in a variety of crafty, creative ways. Fill a gossamer bag, printed with the word, "coal" in puff paint, with black beads representing "coal" and add a hanger to create a Christmas ornament; fill a felt stocking with large chunks of gravel sprayed with black glitter paint; or use glass paints to embellish a glass jar with the word "naughty" across it, fill with black foil-wrapped chocolate coal candies and finish by decorating with a festive holiday ribbon and bow.
Lump of Coal Cookies
Make your own "coal" in the form of sugar cookies colored with black food gel. Roll each cookie in sparkling black sugar before baking. When cool, wrap individual cookies in metallic black foil and place them in a burlap gift bag tied with raffia or twine.
Licorice Coal Candy
Make your own sugar-based coal candy following a recipe of sugar, corn syrup, black food coloring gel, water and anise extract, or another flavor of your choice. The finished product will be a hard solid piece of candy. Use a clean hammer to break the block into small chunks and store in a painted, decorated tin or in cellophane bags tied with ribbon.
Coal Box Surprise
Blend naughty and nice by creating a coal craft gift box that can be used to house a special gift. Use a hexagon-shaped cardboard box, available at arts and crafts stores and spray paint it black. Add layers of black tissue paper, secured with decoupage glue. When dry, spray with another coat of black paint and finish with a sprinkling of black glitter. Add a "nice" gift of your choice.
Coal Carvings
For the truly artistic, consider carving coal crafts. Use head, coke or lump coal to make art shapes using sand carving technology to make various shapes or designs. Coal carvings can be made as highly polished pieces with exquisite glazed surfaces or as rustic, unpolished works that feature rough lines.