Things You'll Need
3 40-inch corrugated cardboard squares

Pencil

Scissors

3 to 5 yards white felt

Hot glue gun

Hot glue sticks

14-inch square of 1-inch thick craft foam

1/2 yard yellow felt

2 18-inch pieces of white ribbon

White long-sleeve T-shirt

White pants or leggings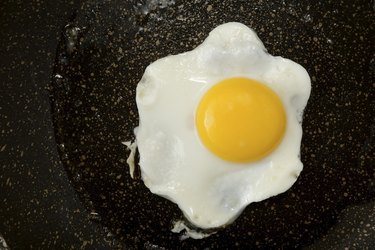 It's incredible, edible and it can be your next costume -- the egg. An egg is an out-of-the-norm costume that will surely have people smiling at Halloween or your next costume party. Whether you end up being "a deviled egg" by wearing devil horns or you partner with someone as bacon and eggs, this is a simple costume that can be made in an afternoon with basic crafting skills.
Step 1
Lie down on a square of corrugated cardboard. Have someone trace a fried egg shape around you. Draw the egg from your neck to your knees. Cut the shape out of the cardboard. Place the egg shape on a second piece of cardboard and trace around it. Cut out the second shape.
Step 2
Place one of the cardboard egg pieces on the white felt and cut the felt out around it leaving 2 inches around the cardboard. Fold the 2-inch edge of felt toward the cardboard and hot glue to secure. Clip 1-inch cuts into the felt to help fold it around the curved sections of cardboard. Repeat the same steps for the second piece of cardboard.
Step 3
Trace and cut a 12-inch circle onto cardboard. Place the circle onto the foam, trace around it with a marker and cut out. Cut a 14-inch circle from the yellow felt. Place the yellow felt right side down on the work surface. Stack the foam and then the cardboard in the center of the felt. Cut 1-inch slits around the felt to create tabs. Fold the tabs to the cardboard and glue with hot glue.
Step 4
Select which egg shape will be the front of your costume and hot glue the yolk onto it.
Step 5
Hold the front of the costume up to your body and mark where the egg meets your shoulders. Make a 2-inch wide slit that is 2 inches from the top of the egg for the strap. Line up the back of the costume and make identical slits. Thread the ribbon through the front of one side of the costume. Tie the end in a double knot so it can't pull through the slit. Take the other end of the ribbon and slip it through the front of the back of the costume that will be along the same shoulder as the front piece. Tie the ribbon in a double knot inside of the costume. Both knots should be on the inside. Repeat for the other side of the costume.
Step 6
Wear a white long-sleeve shirt and pants or leggings under the costume.
Tip
You can also attach the yolk with hook and loop tape. You can wear black pants or leggings. Carry a trophy to be "breakfast of champions." Pair up with a friend who is dressed as toast. Use gray felt instead of white and go as a "bad egg."