Things You'll Need
Green or red fabric

Sewing machine or needle and thread

Chalk or pencil

Scissors

Bells or white pompoms
Dressing up as Santa's little helper is a fun way to fool the kids. But you have to have the costume exactly right so as not to arouse any suspicions. Don't forget your elf shoes, which you can whip up out of leftover costume fabric in a few minutes.
Step 1
Choose the fabric you'll use for your elf shoes. If you have already made an elf costume, you should have enough fabric left over for a pair of shoe covers. You'll need about a yard to make two shoe covers.
Step 2
Draw the shoe pattern onto the fabric, using chalk or a pencil. Fold the fabric in half and trace the left half and the right half of the shoe cover onto the fabric. The shape is simple, just a long side several inches longer than your foot for the bottom, a slightly curving back, straight ankle and top of the foot into an upward-curling toe. The cover should be about six inches wide.
Step 3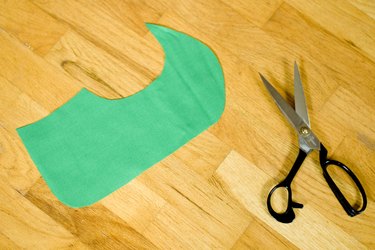 Cut the two sides of the shoe covers out. Keep the fabric folded, so that as you cut along each line, you're actually creating two of the same side. The four pieces will make two shoe covers.
Step 4
Stitch together a right side piece and left side piece for each shoe cover. Begin at the bottom of the back and stitch up to the top. Leave a space for your ankle, then stitch the top of the cover together, sewing across the top, around the toe and down to the bottom. You'll want to leave the bottom edges loose so that they just flap over your shoe.
Step 5
Attach a bell or pompom to the toe of your shoe cover with a few stitches. Then slide your foot through the opening at the ankle, put on your shoes and push the shoe covers down so that the bottom is flush with the floor. Your elf shoes are ready.