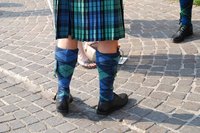 A full Highlands costume is not complete without a kilt. Making one for a child is simple and quick; use it as a costume for acting out Scottish history, or as a simple play costume. By putting several pleats and a large hem into the kilt, it can be let out to accommodate a growing child. Kilts can be made out of any plaid cotton fabric or from a heavier woolen or wool-blend fabric for a more authentic look.
Things You'll Need
Plaid fabric
Measuring tape
Scissors
Pins
Iron
Ironing board
Sewing Machine
Thread
Velcro hook and loop tape
Measure your child from the waist to where you want the kilt end, usually around the knees or calf. Cut a length of plaid fabric in that measurement, plus a 1-1/2 inch hem allowance. Leave the width as it comes off the bolt; cottons are usually about 45 inches wide and woolens are 54 or 60 inches wide. For example, if you need the kilt to be 12 inches long on your child, cut the cotton fabric to measure 13-1/2 inches by 45 inches.
Sew a 1-1/2 inch hem along the edge of the long side of the fabric. This will be the bottom of the kilt. You will have a piece of fabric measuring 12 inches by 45 inches.
Lay the fabric on the table. You will be working with the top length of fabric, opposite the hem. Measure 10 inches from the right side and place a pin to mark it. Measure 10 inches from the left side and place a pin there, as well.
Pleat the remaining 25 to 35 inches of fabric, depending on the width of fabric used, between the two pins until it measures ten inches as well. Follow the plaid lines as closely as possible for a neater look. Pin the pleats so they stay in place. You may want to extend the pins about 3 inches down from the top of the fabric
Iron the pleats flat, keeping the plaid lines as even as possible.
Sew a basting stitch along the top of the pleats to hold them in place. Use a regular straight stitch to sew down each pleat for 3 inches. Take out the pins as you sew.
Fold over the top edge of the fabric to the wrong side and sew a 1/2-inch hem to create a finished look.
Sew one piece of hook and loop tape to the right side of the left 10-inch panel. Align the other portion of the tape strip and sew it to the wrong side of the right 10-inch panel. When you wrap the kilt around the child's waist, the tape will match up and hold the kilt in place.