Things You'll Need
Shirt

Pants

Boots

Belt

Cap or helmet

Beard

Possible extra costume pieces depending on character
From "Snow White and the Seven Dwarfs" to "The Lord of the Rings," dwarfs (or dwarves, depending on the source) hold a cherished place in fantasy. Creating a dwarf costume is a relatively easy task as most of the items you need can be found in your local thrift store. Depending on the type of dwarf that you are creating, you can stop with clothing or accessorize with armor and weaponry.
Step 1
Begin with a slightly baggy, oversize shirt. It should be one solid color. Add patches to the sleeves for that just-out-of-the-mines look.
Step 2
Add a rough pair of pants, also a solid color. These may also have patches if your dwarf lives a rough and tumble sort of life.
Step 3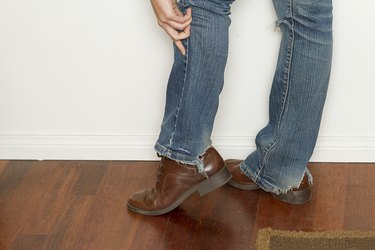 Wear a pair of leather work boots. The more scuffed and dirty the better.
Step 4
Put on a heavy belt over the untucked shirt. It should be durable enough to hang tools off of if needed.
Step 5
Add a large, floppy cap. Once again it should be a single color. If you can find one that ends in a point you will be much closer to many fantasy dwarves.
If your dwarf is a warrior from sources such as "Lord of the Rings" or "Dungeons and Dragons," you will want to replace the cap with a fantasy helmet. These can often be found in toy stores or costume shops.
Step 6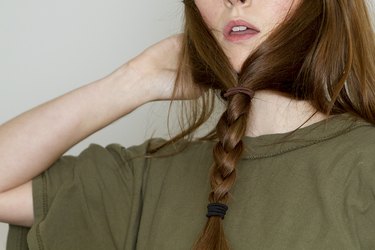 Finish the costume with a full, bushy beard. This is the most important part of a dwarf costume. It must be full and thick, often braided in a Viking style. These beards are typically on an elastic band which stretches over your head beneath the cap.
Step 7
Add pieces of armor for warrior dwarves. You can do something as simple as a sweater vest spray-painted silver to simulate chainmail, to full armor made out of pieces of cardboard or plastic held onto the costume with velcro. Other popular armor items are heavy leather gloves and capes.
Dwarves almost always fight with double-headed axes. Obtain a plastic one at a costume shop, or make one by cutting the shape out of two pieces of cardboard, gluing them to a wooden dowel and painting it silver. You can spatter the blades with black paint to simulate monster blood.