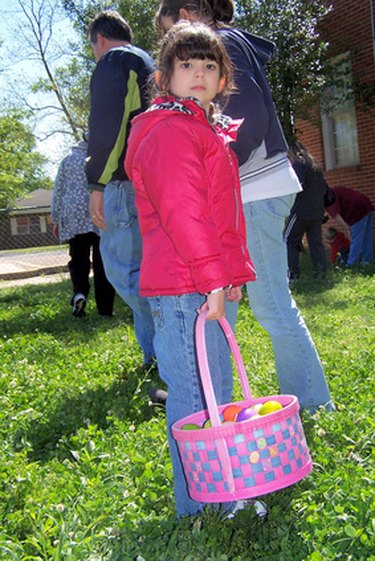 Easter egg hunts can be exciting events for the whole family. Although Easter egg hunts can be provided free of charge, some organizations charge a small fee or ask attendees for donations to raise money for community causes. Planning large Easter egg hunts can present challenges, especially when you must provide a well-organized event with limited financial resources. The availability of ready-made Easter party favors, however, allows you to focus less on creating treats for kids and more on the details that could make the event memorable for all participants.
Step 1
Organize volunteers. Easter egg hunts require volunteers to help children and their parents navigate the Easter egg hunt venue, to answer questions and to serve refreshments. Get commitment from coworkers, friends and fellow church members as early as possible. Write down each volunteer's name and phone number and provide volunteers with information, such as the date and time of the event and a detailed list of responsibilities.
Step 2
Purchase plastic Easter eggs, treats and decorations. Purchase Easter egg hunt supplies as early as possible to avoid the rush and store them in a cool, dry place. Plastic Easter eggs can be purchased in bulk from whole sale party supply vendors. Large quantities of individually wrapped candy and decorations can be purchased from warehouse stores such as BJ's, Costco and Sam's Club. When you are in a time crunch, you can purchase treat-filled plastic Easter eggs. Easter eggs can be purchased online in cases up to 1,000 for as little as 6 cents each.Treat-filled Easter eggs can be purchased online for approximately $100 per case of 1,000.
Step 3
Promote the event. If the large Easter egg hunt is open to the public, design a flyer in a word processing program, print it out and make photo copies. Post the flyer at your church and community organizations that provide services to children such as Head Start and the YMCA. If you have elementary school-aged children, aks to post a flyer on a school bulletin board near the school entrance. If the event is for organization members only, let members know about the event by sending emails and making phone calls.
Step 4
Set up the venue. On the day before the large Easter egg hunt, call on your volunteers to decorate the venue. Inside the venue, set up chairs and refreshment tables with tablecloths. Outside the venue, set up trash cans to keep the venue neat during the event.
Step 5
Hide plastic Easter eggs on the grounds. On the morning of the event, gain access to the venue grounds as early as possible. Hide all the plastic Easter eggs. Delegate some of your volunteers to set up refreshments.
Tip
Although plastic Easter eggs are cheap, supplying Easter baskets can be expensive. Encourage Easter egg hunt attendees to bring their own baskets and bags.