Things You'll Need
Beaded animal pattern

Nylon monofilament thread

Beading needle (optional)

Round 1/4-inch crystal beads

Crystal seed beads

Fine beading wire

Cyanoacrylate adhesive or clear nail polish

Findings (jump rings, barrette clips, brooch backs, mobile phone straps)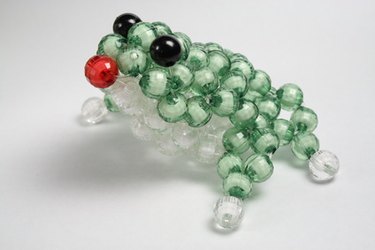 Japanese-style beaded animals are three-dimensional animal models made by weaving crystal beads together. Using patterns from books or the Internet, you can make all kinds of animals from crystal beads. Once completed, you can use your crystal animal as an ornament by gluing it to a suitable base. Crystal animals can be made into sun catchers to brighten up your window. You can also use them as jewelry by gluing or sewing them to brooch backs or by adding a jump ring and a chain, ribbon or cord to make a pendant. Crystal animals can make cute charms for bags and cellphones.
Step 1
Measure and cut a length of beading thread according to the directions in your pattern. If you are only beading from one end of the thread, add a stop bead at the other end (a bead that is not part of the design that is added to prevent the other beads from sliding off the thread), knotting the thread around it and leaving a 4- or 5-inch tail.
Step 2
Thread the first crystal beads and begin weaving, making connected loops of beads. Follow your selected pattern carefully. Pull the thread taut as you work so the animal model will be stable and will hold its form.
Step 3
Tie off the thread firmly once your animal is complete. If the two ends of the thread are not next to each other when you complete the design, weave the long end of the thread back through the beads until it emerges next to the tail with the stop bead. Untie the stop bead and remove it. Tie the ends together in a square knot. Apply a small dab of cyanoacrylate adhesive or clear nail polish to the knot, taking care not to get it on any of the beads. Weave an inch or so of each end back through the design, then snip the ends.
Step 4
Add details (eyes, collars, hair bows) using seed beads threaded on beading wire. If you are making jewelry, add jewelry findings, sewing the animal to a brooch back or other finding, fastening with monofilament and a large needle. Make into a mobile phone charm by fastening the ring on a mobile phone strap to the head of the beaded animal.
Tip
Choose good quality beads. When you buy beads, check to see if they are even in size and shape. Too much variation in size and shape will affect the shape of your finished model.
Use the right gauge of monofilament. Thread that is too fat won't fit through the beads, especially in patterns where the thread must pass through one bead a number of times.
Ask other beaders and craft store staff for advice.
Warning
Don't give beaded animals to young children. The models themselves and the beads they are made from can pose a choking hazard.