Things You'll Need
13 safety pins

Assorted 6mm beads

Jewelry wire

Wire cutters

Assorted rondelle beads

Assorted 8mm beads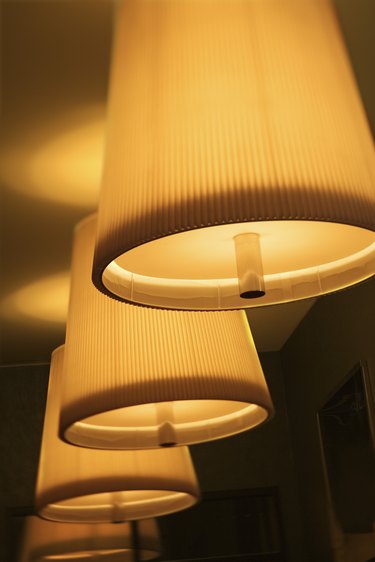 If you are looking for a way to add a little glamour to your plain and boring night-light, consider making a beautiful beaded safety pin night-light shade. Turn your dull night-light into a mini lamp and watch the light sparkle off the beads. With a variety of beads, some safety pins and a few easy steps, you can customize each of the night-lights in your house.
Step 1
Take your first safety pin and string with 6mm beads in your choice of colors. How many beads you need to fill the safety pin will vary based on the size of your safety pin. A 2-inch safety pin will take about five 6mm beads. Close the safety pin and repeat this with the remaining 12 safety pins.
Step 2
Cut a piece of the jewelry wire with the wire cutters to about a foot-long length. String a rondelle bead onto the wire and then string on the base of the first safety pin. The base is the small end with the hinge for opening. Take the wire through the loop. Continue to alternate a rondelle bead and safety pin until you have strung all 13 safety pins. Keep this string of beads and safety pins laying on a flat surface.
Step 3
String another piece of wire through an 8mm bead and then through the first safety pin. This time you are stringing through the other end of the safety pin. Continue to alternate 8mm beads and safety pins until all 13 have been strung.
Step 4
Bring the ends of the wire pieces at the top together and twist into a knot. Trim the remaining wire with the wire cutters. Repeat this step with the bottom wire and your lampshade is complete and ready to place over the lightbulb of your night-light.
Tip
Crystal or glass beads work well for these as they allow the light to pass through and create amazing colors. These lampshades can be made in any color you desire and can be made to match your decor.