Things You'll Need
Large stockpot with lid

Water

Salt

Yukon gold potatoes

Vegetable peeler (optional)

Knife

Potato masher or stand mixer

Butter

Half and half or cream

Roasted garlic

Pepper

Serving dish

Serving spoon

Aluminum foil

Freshly chopped chives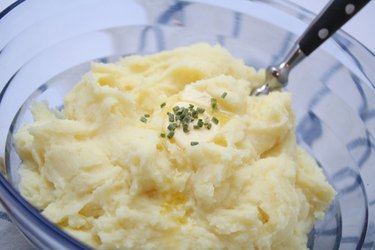 Mashed potatoes are a popular comfort food, but they can also be elegant enough to serve to guests. Mashed potatoes complements any meat or poultry main dish, and can even go well with meaty fish such as salmon. Cooking mashed potatoes is simple, but does require more time than instant potato flakes. If you plan your menu ahead of time, you will be able to serve an elegant mashed potato dish at your next dinner party.
Prepare the Potatoes
Step 1
Fill a stockpot 2/3 full of water. Add a generous dash of salt and put the pot on the stove over high heat. Cover with the lid.
Step 2
Thoroughly wash the potatoes under cold water.
Step 3
Use the vegetable peeler to peel the potatoes, if desired. Leaving the skins on gives the finished dish a more rustic appearance. Peeling the potatoes gives a more uniformly creamy dish.
Step 4
Cut the potatoes to a uniform size. This will ensure that they cook evenly.
Step 5
When the water is at a full rolling boil, add the potatoes. Cook until they are soft enough to slide a knife to the center, but not mushy. The exact time will depend on how many potatoes you are cooking.
Step 6
Drain the potatoes and return them to the pot. If you are planning to whip the potatoes in a stand mixer, place them in the mixer bowl at this point.
Step 7
Mash the potatoes with a hand masher, or whip them in a stand mixer for 30 seconds on medium high.
Step 8
Add one tablespoon of butter, 1/4 cup of half and half or cream, and two or three cloves of roasted garlic per pound of potatoes. Mix thoroughly until the butter is melted and the garlic and half and half or cream are fully incorporated. Taste the potatoes and add salt, pepper or garlic to taste.
Serve the Potatoes
Step 1
Spoon the potatoes into the serving dish, if you are serving the dish family style. Use the back of the spoon to smooth and round the pile of potatoes. If you are plating the potatoes in the kitchen, leave them in the mixing bowl or pot and cover the bowl with aluminum foil until you are ready to serve.
Step 2
Top the potatoes with a teaspoon of butter and clove or two of roasted garlic just before serving or when you plate the potatoes. Sprinkle them with chopped chives.
Step 3
Insert the serving spoon into the potatoes or place it to the side of the serving dish, if you are serving family style.