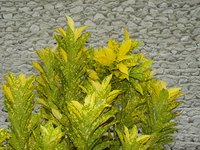 The croton plant, or Codiaeum variegatum, is an evergreen shrub found in warmer regions of the U.S. Often used as a landscape plant, crotons have glossy foliage that can be variegated or have several colors on a single plant. The croton is native to the Pacific Islands and Malaysia, and is a tropical plant that thrives on warmth and humidity. It is hardy in zones 9 through 11 and must be protected from frosts. Croton will respond to sudden freezes by dropping its leaves. Gardeners can use a number of methods to care for croton in freezing temperatures.
Things You'll Need
Mulch
Sheets or horticultural cloth
Cardboard or Styrofoam boxes
Fertilizer
Insecticide
Fungicide
Pruning shears
Trees
Shrubbery
Fencing
Put up wind protection such as shrubbery, fences or other barriers to help protect croton plants.
Reduce fertilizer during the fall to accommodate decline in croton plants' nutritional needs during the winter months.
Irrigate before the freeze occurs, but do not saturate the croton's root system.
Mulch croton plants with loose material such as pine straw or leaves. This will protect root systems and crowns but not leaves
Sprinkle the leaves lightly with water when freeze occurs.
Cover plants with a sheet or horticultural cloth. Do not let cloth touch foliage, and allow the cover to extend to the ground.