The croton plant, or Codiaeum variegatum, is an evergreen shrub found in warmer regions of the U.S. Often used as a landscape plant, crotons have glossy foliage that can be variegated or have several colors on a single plant. The croton is native to the Pacific Islands and Malaysia, and is a tropical plant that thrives on warmth and humidity. It is hardy in zones 9 through 11 and must be protected from frosts. Croton will respond to sudden freezes by dropping its leaves. Gardeners can use a number of methods to care for croton in freezing temperatures.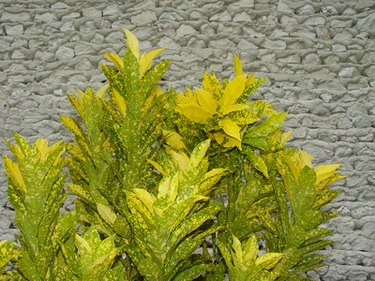 Things You'll Need
Sheets Or Horticultural Cloth

Insecticide

Trees

Fungicide

Cardboard Or Styrofoam Boxes

Fencing

Pruning Shears

Shrubbery

Mulch

Fertilizer
Step 1
Put up wind protection such as shrubbery, fences or other barriers to help protect croton plants.
Step 2
Reduce fertilizer during the fall to accommodate decline in croton plants' nutritional needs during the winter months.
Step 3
Irrigate before the freeze occurs, but do not saturate the croton's root system.
Step 4
Mulch croton plants with loose material such as pine straw or leaves. This will protect root systems and crowns but not leaves
Step 5
Sprinkle the leaves lightly with water when freeze occurs.
Step 6
Cover plants with a sheet or horticultural cloth. Do not let cloth touch foliage, and allow the cover to extend to the ground.
Tip
According to Crotons.org, the croton plant develops its best color in shifting sunlight, so plant where it can get some shade, as well as protection from cold winds.
Though croton may drop its leaves when subjected to frost, it typically regrows when temperatures warm and moisture is provided, according to Central Florida Palms.
Planting croton under trees provides good protection from freezing temperatures.
According to Louisiana State University, you can also use cardboard boxes or Styrofoam boxes to protect plants during freezes.
If you use plastic to cover croton plants to protect them from freezing temperatures, remove the plastic as soon as temperatures warm, or vent during the day to allow circulation of air for the plant.
Make sure your croton plants are healthy before they go into the colder months by treating them for pests or fungus.
Warning
Freezes that last for eight hours or more can be especially damaging to plants. Protection measures should be taken for long periods of cold weather.
Avoid pruning croton in late fall; pruning stimulates new growth that will be susceptible to freezing temperatures.
Delay pruning back damaged areas of croton until the spring. You can remove dead leaves from the plant.