Instead of dressing as the ever-popular yet often overdone Nintendo character Mario, create a less-used homemade costume and dress as his enemy -- the not-so-friendly Wario. Greedy and selfish, Wario makes an excellent choice for a video game villain costume, and you may already own many of the clothes you'll need to make this inexpensive ensemble. Practice your evil grin and menacing laugh and you're ready to go.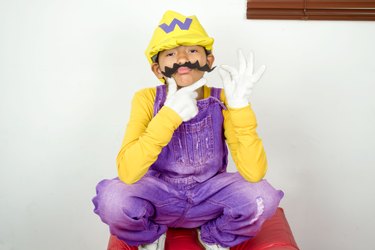 Things You'll Need
Double-Sided Tape

Scissors

Hot Glue Gun

White Gloves

Black Craft Foam Or Felt

Overalls

Yellow Baseball Cap

Yellow Long-Sleeve Shirt

Plastic Bucket

Purple Felt

Purple Rit Dye

Green Or White Tennis Shoes
Step 1
Wear a bright yellow long-sleeve shirt for the top half of your outfit. Wario's shirt is plain yellow without any special design on it, so even if your closet is missing this staple costume piece, a thrift store or clearance rack should have a spare lying around.
Step 2
Draw or sew on a purple W to the front of a yellow baseball cap, above the bill. For those who dislike sewing projects, cut a W out of purple felt and hot glue it on the hat.
Step 3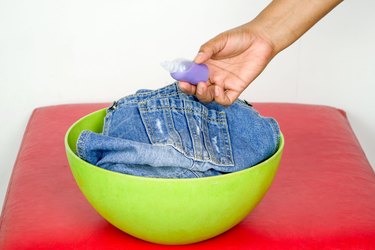 Sew a pair of overalls out of thick purple material or dye a light colored pair of overalls purple. Use purple clothing dye to color your jeans in a large plastic bucket. The washing machine, bathtub or your sink will also work, but the dye may dye these items along with the jeans, and a cheap bucket is the safest bet in case staining occurs.
Step 4
Wear white gloves and green shoes to finish off Wario's clothing. If you find yourself lacking in the green shoe department, choose white tennis shoes to match your gloves.
Step 5
Cut a zigzag or wavy fake mustache out of black craft foam or felt and add a little double-sided tape to the back. Stick it on your face and you're ready to party Wario style.