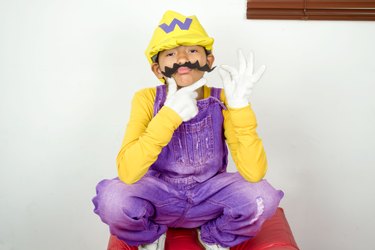 If you're looking to dress up as a villain who's evil and funny at the same time, consider the lifelong rival of video game characters Mario and Luigi: Wario. Often cast as the antagonist to Mario and Luigi, Wario was initially created to act as a counter to Mario himself, but has evolved to the point where he has his own games and his own fans, who may want to make their own Wario costumes. Somewhat macho, reckless, and jealous of Mario's success, Wario is the kind of enemy you can't help but like.
Wario's best-known outfit finds him in a yellow shirt and purple overalls, with white gloves and green shoes. He wears a yellow hat labeled with a W, to further emphasize his opposition to Mario's M, and boasts thick eyebrows and a lightning-bolt mustache. Even if you don't look much like Wario in real life, this costume should be fairly easy to recreate using items you may already own or can thrift from your local Goodwill.
Things You'll Need
Yellow shirt and baseball cap

Overalls

White gloves

Green shoes

Black felt or craft foam

Purple felt or fabric

Fabric glue or hot glue

Scissors

Adhesive for skin (double-sided tape, spirit gum, or eyelash glue

Makeup, such as

bright pink blush and black eyebrow pencil or eyeliner
Step 1: Find the Right Costume Base
You'll need to obtain some basic clothing to start. First, a bright yellow shirt and a yellow baseball cap; if you don't own these already, check clearance racks or thrift stores. You'll also need a pair of purple overalls, but don't worry; if you can find a pair of light-colored overalls in your size, you can easily dye them the proper purple using clothing dye that can be found at your local crafts store or even in the grocery.
White painter's overalls can work wonderfully for this. White gloves and green shoes will wrap up the ensemble, but if you can't find green shoes, you can wear white sneakers to match the gloves or construct green shoe covers instead. While you're at the craft store, you'll also want to pick up black felt or craft foam, purple felt or fabric, fabric glue or hot glue, and a good pair of scissors.
Step 2: Make a "W"
Measure, draw, and cut a "W" out of the purple felt or fabric you've bought that will fit the front of the baseball cap, right above the bill. You can hand-sew this piece onto the cap, or use fabric glue or hot glue to attach your W to your cap. With your black felt or craft foam, cut out a long, exaggerated moustache in a zigzag or wavy pattern. You'll want to attach this to your face using double-sided tape, spirit gum, eyelash glue, or another adhesive suitable for skin.
Step 3: Get Purple Overalls Ready
The next step is to get your purple overalls ready. If you can sew, you may want to make yourself a simple pair using purple fabric, but if not, dye an inexpensive, light-colored pair. Follow the instructions on the fabric dye and use a cheap bucket to avoid staining your sink or washing machine. Once dyed and dried, you'll have Wario's basic outfit complete.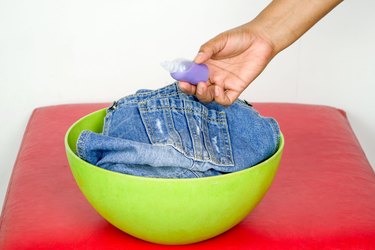 Step 4: Accessorize the Costume
Once you have your yellow shirt, purple overalls, and shoes on, you may want to consider some basic drugstore makeup to emphasize your face just like Wario's. Use a bright pink blush on your nose to mimic Wario's giant pink one; a black eyebrow pencil or eyeliner will help make your eyebrows comedically thick.
Step 5: Add a Mustache
Once you're finished, put on your gloves, hat, and moustache, and practice your best evil laugh. You're ready to go out and do dastardly deeds during your Wario cosplay. If you have a friend to dress in a homemade Mario costume, so much the better!