Things You'll Need
3-4 lb. eye of roast

3 tbsp. olive oil

1/4 cup flour

10 oz. can of cream of mushroom soup

10 oz. can of beef broth

1 pack onion soup mix

Garlic powder

1 tsp. black pepper

4 medium red potatoes

2 medium carrots

1 large onion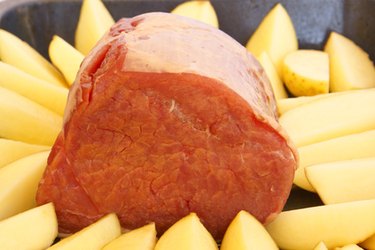 The eye of round roast is a boneless cut of beef that is elongated and usually has a thin layer of outer fat surrounding the cut. One of the best ways to cook this type of roast is to use a slow cooker. Using a slow cooker lets the roast cook gradually, which helps keep it moist and tender. You also can cook vegetables along with the roast to add variety to your meal.
Step 1
Combine the flour and black pepper, then roll the roast into the mixture to coat it.
Step 2
Heat the olive oil on medium-high heat in a frying pan. Add the roast to the pan once the oil is hot.
Step 3
Cook the roast for five to seven minutes in the pan, turning it often so it browns on all sides.
Step 4
Pour the mushroom soup and beef broth into the slow cooker.
Step 5
Add the onion soup mix to the slow cooker and stir the mixture.
Step 6
Place the roast into the slow cooker.
Step 7
Slice the potatoes, carrots and onions and add them to the slow cooker.
Step 8
Spoon the soup mixture over the meat and vegetables.
Step 9
Place the lid onto the slow cooker and cook the roast and vegetables on low for about eight hours.