Things You'll Need
Fabric

Fabric marker or pencil

Yardstick or straightedge

Sewing machine

Regular thread

Elastic thread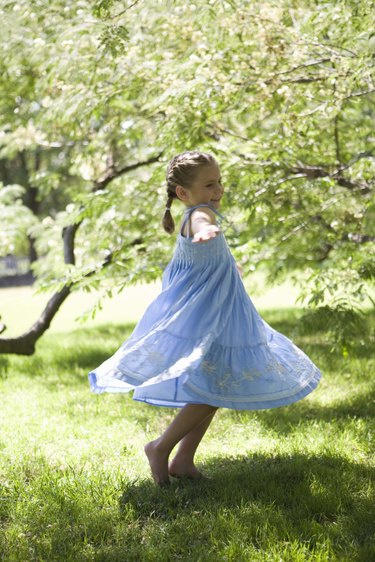 Smocking is a traditional sewing craft that has been around since the Middle Ages. It originally began as a practical way of allowing a garment to be larger or smaller, depending on who wears it. Eventually, embroidery was added over the top of the smocking to give a decorative touch. Smocking is still used for specialty outfits such as christening gowns. These are usually considered heirloom pieces that are handed down and treasured from generation to generation. The basic craft of smocking is not difficult and can be done with a little bit of skill and patience.
Step 1
Mark lines on the fabric that you want to smock using a yardstick or straight edge. These lines are marked about 1/4 to 1/2 inch apart. Using a fabric marker or pencil, mark these lines on the right side of the fabric as a dotted line across the length of the fabric.
Step 2
Wind elastic thread around a bobbin by hand. There should be no or as little tension as possible in the thread, so using a sewing machine doesn't pull the thread too much.
Step 3
Thread the machine as per the instruction manual with regular thread, and put the bobbin with the elastic thread in as you would normally.
Step 4
Place your fabric in the sewing machine with the right side facing up, and the "wrong" side of the fabric faces down toward the elastic thread in the bobbin.
Step 5
Sew a straight line across the fabric, following the marks you made. Use the regular or walking presser foot when sewing. Hold on to the elastic thread as you begin to sew the straight line. The elastic thread starts to stretch as the fabric moves through the feed dogs. The fabric should begin bunching up, or shirring, as it goes through the sewing machine.
Step 6
Pivot the the fabric 180 degrees to start the next row. Repeat the process for each line you drew on the fabric.
Tip
Backstich at the beginning and end of each row to lock the stitch in place.
Do not iron the smocking after you have finished. This presses the shape of the pleat out of place.