Things You'll Need
Green tights

Green turtleneck

Green ballet flat shoes

Green chiffon, varying shades

Needle and thread

Scissors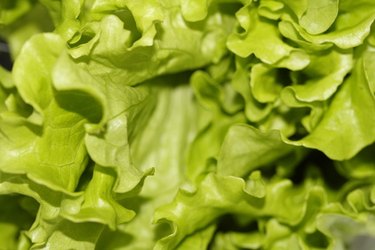 Wearing a unique outfit can make you the life of the party at any costume gathering, but costumes at boutique stores and specialty shops are expensive. If you're looking for something different for a Halloween or theme party, consider sewing together a lettuce costume with chiffon fabric and green clothes you have at home. Not only is it easy to make your own lettuce costume, it is also a memorable idea that promotes healthy eating.
Step 1
Cut 6-inch strips of green chiffon long enough to fit around your waist. Varying shades of green add visual interest to the costume. The more strips you cut, the more lettuce leaves you'll have, but ten strips is a good amount.
Step 2
Sew one long side of each chiffon strip horizontally around the waist of the turtleneck. Cut one end of the strip so both ends match up, then sew the two ends together. Continue sewing chiffon strips from the lowest part of the waist to the bust area, alternating colors and spacing each strip evenly throughout. You should have several horizontal rows of chiffon fabric from the waist of the shirt to the bustline.
Step 3
To complete the outfit, wear green clothing with the turtleneck. Green tights and green shoes pulls everything together and creates a cohesive look.
Tip
Because chiffon is a delicate fabric, you may want to carry a small sewing kit with you to fix any unraveling that may occur.