Some pens have permanent ink, but few fountain pens or other wet-ink pens do. Also, even permanent ink can bleed or fade over time. To make your ink last in letters, documents and artwork, use an artist fixative. It's similar to hairspray in an aerosol can, but it goes on matte instead of shiny, it is not sticky, and it protects your ink indefinitely.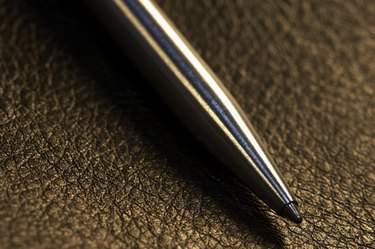 Things You'll Need
Tape

Fixative

Cardboard Box
Step 1
Purchase permanent fixative from an art store. There are also partially malleable fixatives known as "workable" that allow for some editing. For permanence, you'll want a more long-lasting fixative.
Step 2
Put the paper or artwork you want to spray upright in a well-ventilated area. The easiest way to protect the artwork and your yard or home is to tape the paper to the bottom of a large cardboard box and then turn it on its side to stand the artwork upright. Roll the tape into little circles and put them on the back corners of the paper to ensure the fixative reaches the entire paper.
Step 3
Hold the fixative several feet away from the artwork and spray steadily back and forth from left to right in a zigzag motion, all the way down the paper.
Step 4
Wait five minutes to let the first coat dry and then repeat. Two or three thin coats are more effective than one thick coat.
Step 5
Remove the tape from the paper and allow the paper to dry completely. This should take less than an hour.