Things You'll Need
Oven mitts

Mild cleanser

Tablecloth or place mats

Bleach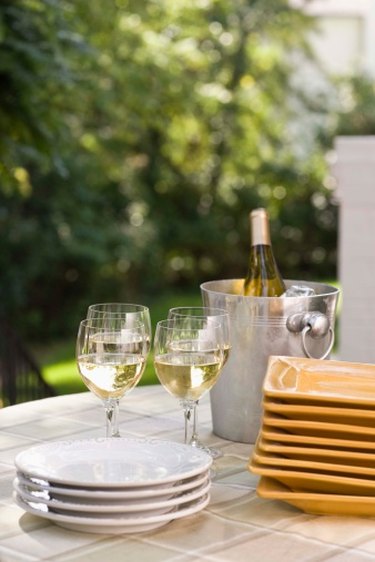 Pfaltzgraff historically has produced china, porcelain, ironstone, stoneware and earthenware dishes. Most of the company's current designs are manufactured in stoneware and earthenware. The two products differ somewhat in durability and composition but require similar care and maintenance. While Pfaltzgraff dinnerware is safe for the microwave, oven and dishwasher, exercise caution when washing, as many of these dishes have an unglazed base that can absorb water.
Step 1
Heat Pfaltzgraff dinnerware gradually, without sudden changes in temperature. Don't place hot dishes on cold or wet surfaces, as this can cause breakage. Never use Pfaltzgraff dinnerware on the stovetop or broiler. Both stoneware and earthenware are safe for use in the microwave, oven and dishwasher, but earthenware should stay below 350 degrees Fahrenheit.
Step 2
Clean Pfaltzgraff dinnerware with a mild, non-abrasive cleaner. If a dish needs to soak, fill it with warm water and detergent but don't submerge it in water. The unglazed base will absorb the water, causing problems with crazing and cracking. Treat stains with a solution of equal parts bleach and water.
Step 3
Sand the unglazed bottom of each dish lightly or rub the bottoms of two dishes together to smooth the rough edges. Place dishes on a tablecloth, place mat or trivet to protect tables and other surfaces from scratches.
Tip
Stoneware retains heat from the microwave, making it effective for warming food.
Warning
Earthenware becomes extremely hot when heated in the microwave. Use oven mitts and handle with care when removing earthenware from the microwave.