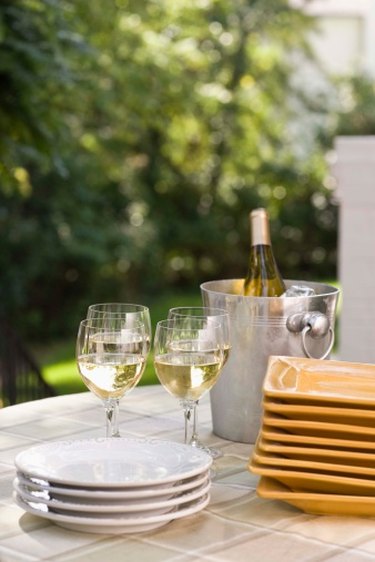 Pfaltzgraff has historically produced dishes made of Pfaltzgraff porcelain, bone china, stoneware and earthenware. Most of the current patterns and designs are created with stoneware and earthenware, both of which have similar care instructions. Each set you order from Pfaltzgraff will come with a use and care sheet so that you can maintain your dinnerware for years to come.
How to Clean Pfaltzgraff Dishes
Both stoneware and earthenware Pfaltzgraff dishes are dishwasher-safe. This makes these durable plates and bowls easy to clean and care for. However, there are some things to keep in mind to ensure your dinnerware lasts.
The dishes are glazed, but the foot, or underside, of the dish is not. This means that water can seep into the pores of the clay and cause cracks and other defects in the dishes, and the dish will heat unevenly when placed in the oven or microwave. To prevent this issue, make sure you don't completely submerge and soak the dishes. If you need to soak the plate to remove caked-on food, fill only the top part of the dish that is glazed and soak it with soap and water.
Pfaltzgraff stoneware and earthenware dishes are extremely durable. You can safely microwave them as long as the design you have does not contain metal. Keep in mind that earthenware dishes retain heat, so you will want to use a potholder to remove the plate from the microwave. You can also put these plates in the oven but be sure to start with a cool oven because an abrupt change in temperature can harm the dishes.
Avoid using abrasive cleaners that can damage the glazed surface. If there are stains on your Pfaltzgraff dishes, you can soak the dish with a mixture of half water and half bleach, again only soaking the top of the dish rather than submerging it.
Some dishes may develop gray scratches or marks on the glaze. This is caused by bits of metal from silverware getting caught in the glaze of the dinnerware. Pfaltzgraff recommends using Pfaltzgraff Stoneware & Porcelain Cleaner to remove those marks, but unfortunately, this product has been discontinued. As an alternative, consider using baking soda and water or another commercial product, such as Barkeepers Friend.
Clean Pfaltzgraff Glassware
Pfaltzgraff also has a line of glassware to accompany your dinnerware that includes tumblers and wine glasses. These glasses are designed to be used to serve food and beverages, and it is safe to refrigerate the glassware. The glasses are not freezer-safe, however. Do not heat the glassware by putting it in the microwave or on another heat source, such as the oven or stove. You should not use them to serve hot food or drink.
Glassware must be washed by hand using a mild detergent and warm water. Don't soak the glassware or use abrasive cleaners or scouring pads.
Glassware can break if it is bumped or dropped. Take care not to hit the side of the sink when washing the glasses and be gentle if you choose to stack the glasses to store them.