"The name is Bond. James Bond." Just because you cannot sound like iconic British Secret Service agent 007 with a "license to kill," doesn't mean you cannot look like him. An invitation to a James Bond party is more than just an event invite; it's an opportunity to celebrate the characters of Ian Fleming's work, from Bond himself to the many good women and evil men that populated his life. Dressing up for a James Bond party means appearing as one of the many Bond characters, who all need the appropriate James Bond party outfits.
Things You'll Need
Fluffy white cat

Black bowler hat

Black vest

Pearl necklace

Black or blue suit

Bald head wig

Black tie

Black pantsuit

Tuxedo

Aluminum foil

Gold blouse

Lighter

Martini glass

Gray slacks

Tuxedo jacket with tails

Women's dress suit

Mao suit
Dress as James Bond. Given that James Bond is a spy, he works at remaining inconspicuous, so his character's appearance does not have any defining outfits. Dress in a black tuxedo with a black bowtie or a gray or black suit with a thin black tie. Carry a martini glass all evening long as a prop, since James Bond liked his martinis "shaken, not stirred." Carry a lighter or a pen on you, telling others it is an explosive or a laser, in true Bond style.
Dress like Jaws. Jaws was a recurring Bond henchman, who showed up first in "The Spy Who Loved Me" and reappeared in "Moonraker," and has an extremely noticeable trait -- metal teeth. Dress in a black or blue suit, and cover your teeth with aluminum foil for this snazzy James Bond party outfit.
Dress like Blofeld. Ernst Stavro Blofeld is a major recurring villain who met his end in "For Your Eyes Only." The character of Dr. Evil from the Austin Powers series was based on Blofeld. Wear a light-gray Mao suit, which is a two-piece suit with a jacket that buttons up to the collar and has no lapel. Don a bald head wig and carry around a white fluffy cat for the evening.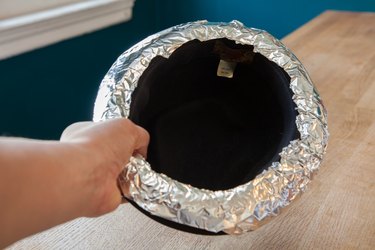 Dress like Odd Job. Odd Job was one of the henchmen in "Goldfinger," whose special trick was a boomerang top hat that could cut through stone. Wear gray slacks, a black tuxedo jacket with tails, a black vest and tie. Carry around a black bowler hat with aluminum foil attached to the bottom of the brim for Odd Job's signature weapon.
Dress as Pussy Galore. Pussy Galore is one of the most famous Bond girls from "Goldfinger." A female pilot who switches from the bad side to the good in the film, one of her most famous outfits is a simple black suit with a gold blouse underneath. This is likely among the most popular James Bond female characters fancy dress ideas.
Long Live Miss Moneypenny
Dress as Miss Moneypenny. She is one of the most enduring characters of the series and the most important woman in James Bond's life. She is the assistant of M, Bond's supervisor at headquarters. Miss Moneypenny is known for her elegant style, so wear a long muted skirt with a matching jacket. A single, elegant strand of pearls completes her outfit.