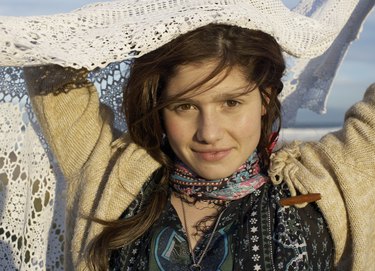 Adding your own labels to something you've crocheted is the perfect finishing touch on a craft that's already highly personal. Whether you're labeling your goods for sale, marking the size of an afghan so you don't have to keep wondering which bed it fits, or just letting a loved one know who made their new favorite gift, there are four different ways of attaching the label.
Sewing on Labels
If your label has no adhesive on the back, it's meant to be sewn on. There are two ways to do this: Either work by hand using a needle and thread that matches the yarn beneath it, so it'll easily blend in; or use invisible thread and a sewing machine to quickly attach the label. The stitches will remain practically invisible, and, because most invisible thread has a bit of stretch to it, it won't make your crochet noticeably stiffer.
Adding Hang Tags
If you need to add a label strictly for pricing your crocheted goods, or perhaps as a gift tag that's not meant to remain on the item forever, consider using a hang tag. These card-stock tags come in varying sizes, from small enough for a handwritten price, to large enough for a short gift note. Each tag has a hole punched in one end and a string loop that passes through the hole. Poke one end of the loop through a stitch on your crocheted item, pull it most of the way through the stitch; then pass the tag itself through that loop. Pull the tag to snug the cord loop back against the stitch, letting the tag dangle freely.
The Basic Iron-On Method
Some labels come with a shiny adhesive on one side; these are meant to be ironed on. You'll need an iron and ironing board.
Jennifer Greenfield from YarnHookers.com, who sells iron-on labels, recommends using the medium setting on the iron -- no steam -- and pressing the preheated iron over the label for about 8 seconds. Then rub the iron briefly back and forth over the fabric and lift it away. Once the yarn has cooled, you can wash the piece to remove the shiny look caused by the iron's heat.
An Alternative Iron-On Method
Greenfield encourages crocheters to use her labels on items made with acrylic yarn -- but if you're working with nylon cordage or other materials that may be damaged by heat, or if you're just not sure how your work will hold up to an ironing, test the iron on a test swatch first. Make the swatch using the same material and stitch pattern, and hold the iron over it for the same length of time -- about eight seconds.
If you're still unsure about using the iron-on method, you can always iron the logo onto a lightweight piece of coordinating fabric; then stitch the fabric onto the crocheted work. You'll need a needle and coordinating thread or a sewing machine loaded with invisible thread.