Things You'll Need
Brown paper grocery bag

Cotton balls

White school glue

Bow (optional)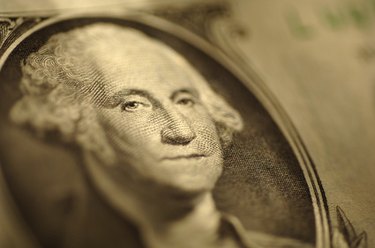 Some children may want to dress up as the first American President George Washington on Halloween or on Presidents Day. One of the most important components of the costume is the wig. Men in the 18th century wore wigs with rows of tight curls, which were powdered white. You can easily make a George Washington wig with a few simple craft items that will look effective and, as a bonus, be light and comfortable to wear.
Step 1
Choose a brown paper grocery or shopping bag that is roughly the same size or a little larger than the head of the child who will be wearing the finished wig. Lay the brown bag face down with the bottom flap facing down and the smooth side facing up. The open side should face away from you. Cut off the handles, if there are any.
Step 2
Draw a squared-off L shape on the bag. This will give you a wig base that has bangs in front and a thick ponytail shape (the long part of the L) in the back. You will need to estimate how thick the shape should be drawn, based on the size of your child's head.
Step 3
Cut out the L shape. Have your child try on the brown paper wig base. Adjust it for size, if necessary, by trimming it with the scissors.
Step 4
Glue cotton balls to the brown paper base with white school glue. The cotton balls should be glued on in horizontal rows, if possible, to simulate the curls on a genuine 18th century wig. Place the wig onto a wig stand or other large round prop. Let the glue dry thoroughly.
Step 5
Take a piece of ribbon or yarn and tie it around the ponytail part of the wig when the glue and the wig are thoroughly dry. This will help to define the ponytail and will add to the authentic look of the wig.
Tip
Make sure that you have plenty of cotton balls (two or three bags at least, per wig) as it will take quite a few to cover the brown paper wig base. Try to have even more than you think you will need.