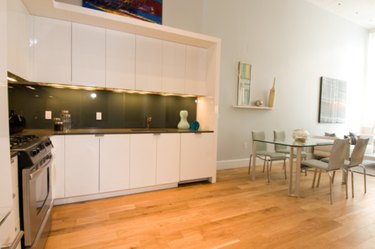 Replacing kitchen floors is not a project to be undertaken by the faint of heart. Kitchen remodeling projects are often the most time consuming and costly in a home, requiring patience, perseverance and an eye for detail. There are several factors to consider in kitchen floor replacement, from removing the old floor to the type of new floor you imagine for your new dream kitchen. However, for the hard-core do-it-yourself guru, there are a few steps that can make replacing that old kitchen floor easier.
Step 1
Select your new floor. In today's modern world, it is possible to have flooring solutions in your kitchen ranging from vinyl to laminate flooring to hardwood. When selecting the right product for your kitchen, it's best to consult with a flooring expert or general contractor about how often you use your kitchen, how often items are spilled or dropped on your floor, and the amount of care and maintenance each type of flooring option will require. Listing out the requirements of your family's day-to-day kitchen habits can be a good tool that helps steer you in the direction of selecting the right floor for your lifestyle.
Step 2
Remove all furniture and appliances from the kitchen and sweep the area. The most attractive kitchen flooring remodels run from wall to wall. For a uniform appearance, it is important to have the flooring run throughout the kitchen.
Step 3
Remove the old floor. If the old kitchen floor is tile, this will be a time-consuming process, as each piece of tile needs to be removed by breaking it up with a sledgehammer and chisel and then the grout taken off the subfloor with a commercial stripping solution. If the floor is vinyl, the process is also time consuming. Remove the existing flooring with a heat gun and utility knife, tearing up the old flooring and removing the glue using a commercial adhesive removal product. It is possible to replace a kitchen floor completely by installing it directly over the old vinyl floor. If the old flooring was hardwood or laminate, it will need to be completely removed and new underlayment placed once you are ready to start the flooring remodel.
Step 4
Lay the new floor according to the manufacturer's instructions. Vinyl flooring can be installed in a matter of hours, similar to laminate flooring. Wood flooring and tile flooring can take several days or as long as an entire week, depending on the size of the kitchen and the patterns of tile you select. The more complex the flooring option, the more time will be required for it to set and dry. Once the floor is in place and all elements are dry, move all the appliances and furniture back to their proper places.