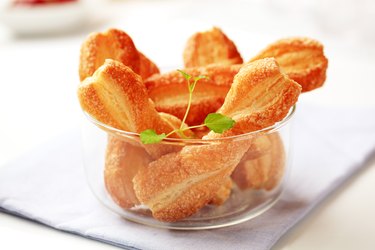 Crispy, tender pieces of puff pastry sprinkled with cheese and baked, cheese straws don't normally stay around long enough that you need to store them. But if you want to bake these snacks ahead of time, you'll want to make sure they don't get soggy. Keeping them protected from moist air, which the pastry will absorb, is the most important factor in storing them successfully.
Step 1
Allow the cheese straws to cool completely.
Step 2
Place the straws into an airtight container or plastic storage bag and store them at room temperature. Remove as much air as possible from the storage bag before you seal it.
Step 3
Store the cheese straws for up to one week.
Step 4
Heat the oven to 350 degrees Fahrenheit.
Step 5
Place the cheese straws on a cookie sheet.
Step 6
Bake the cheese straws for 3 to 4 minutes to restore any lost crispness.
Tip
You can store unbaked cheese straw dough in the refrigerator for one week or you can freeze the dough for one month.
Warning
Discard the cheese straws if they have an odd odor because the ingredients in the straws can go rancid after one week.