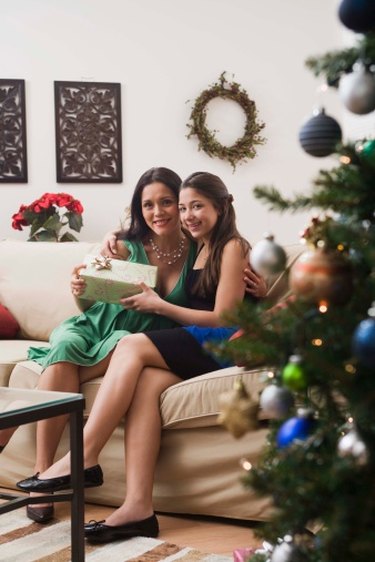 The traditional full, bushy Christmas tree is prevalent on Christmas tree lots, but tall, thin varieties are also available. Narrow trees work well in apartments and other small spaces or can be grouped together in a larger space. Many common evergreens have slender-growing varieties.
Step 1
Choose tree varieties that fit the desired size and shape. Conical concolor — or white — fir, Karl Fuchs cedar and fastigiata Douglas fir are all suitable as Christmas trees, combining traditional needles and foliage colors with a narrow growth pattern.
Step 2
Ask sales people at Christmas tree lots which narrow evergreen varieties they carry. If there aren't any on the lot, they might be able to order one for you.
Step 3
Cut your own tree at a tree farm or in designated forest areas. Check local laws and acquire any required permits if you choose to cut in a national forest or other government land.
Warning
Cut your tree no more than 6 inches from the ground. Cutting off just the top of the tree damages the tree and is not permitted at most facilities.