Things You'll Need
Pin

Sewing machine

Thread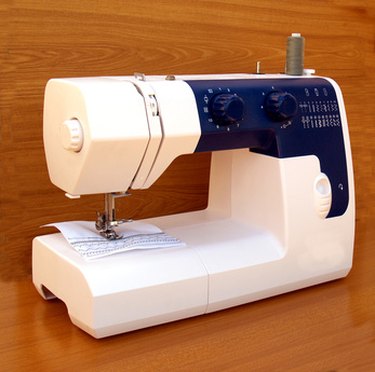 Elastic stretches with use and age. Over time a strap will stretch so that, instead of holding your garment in place, it dangles uselessly. You can tighten an elastic strap without replacing it. Tightening an elastic strap can also make a garment fit a smaller person. Before you tighten a strap be sure there is still some stretch left in the elastic. Elastic that no longer stretches will have to be replaced.
Step 1
Pinch excess elastic together and pin it in place. Make the loop of excess elastic on the least visible end of the strap. For example, place the loop on the back end of a shoulder strap.
Step 2
Try on the garment to see if the elastic is tight enough. Be sure the garment will still slip on and off easily. Adjust the size of the loop of elastic if necessary.
Step 3
Measure the length of the folded loop. If it is more than 1/2 inch long; cut off the excess elastic, overlap the ends 1 inch and pin them in place.
Step 4
Remove the pin and machine sew the strap together. If you have cut the loop, machine sew both ends of the elastic down with a zigzag stitch.If there is a loop, use a straight stitch to hold the loop together. Do not cut the loop; it will be smoother if it is not cut. Machine sewing is strong enough to stand up to the stresses put on the strap when the garment is worn.