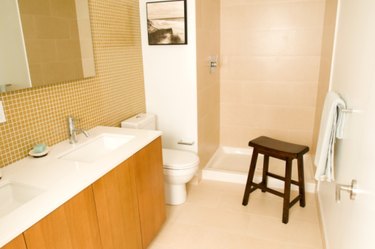 Few things are more frustrating than a shower curtain that slips free of the rod. Since shower curtain hooks are made to slide easily over the rod, they also slide off on a regular basis. Having your shower curtain drooping off the rod can make it fold in on itself, encouraging the growth of mold when that part of your curtain doesn't dry. Keep your bathroom clean and neat by preventing the shower curtain from slipping off the rod.
Step 1
Purchase shower curtain hooks that snap into themselves at the top. These lock in place, creating an unbroken circle that the rod cannot slip through.
Step 2
Thread one of the hooks through each hole in the curtain. Frequently there won't be enough hooks in the pack to have one in each hole of the shower curtain. Adding additional hooks will distribute the weight of the curtain more easily, helping it stay up.
Step 3
Push the end of the hook through the loop until it snaps. This locks the hook in place once it is on the shower curtain.
Step 4
Remove the curtain rod and slide the hooks over it.
Step 5
Replace rod and check weekly to be sure that the weight of your shower curtain isn't pulling it away from the hooks.
Tip
You can also bend the ends of your hooks to make them wrap more securely against the shower curtain rod, if you want to work with the hooks you already have. Be careful. Plastic hooks will snap easily.