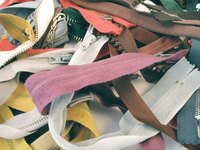 Invisible zippers provide an ingenious way to fasten upscale, or specialty clothing by keeping the integrity of the design's line intact. However, generally made of plastic, these zippers have a tendency to snag, stick and break. The only way to truly fix an invisible zipper is to replace it. Unlike ordinary zippers, these items have zipper teeth located behind the zipper tape, and come on a multitude of colors to blend with the garment's fabric. A special invisible zipper foot is required to replace this item.
Things You'll Need
Invisible zipper
Matching thread
Invisible zipper foot
Sewing machine
Needle
Scissors
Straight pins
Fixing the Invisible Zipper
Open the broken zipper as much as possible, and use a seam ripper to loosen and remove the stitching. Extract the zipper. Carefully pick away any loose threads from the garment. Use the steam iron to open and flatten the seams.
Remove the regular foot from the sewing machine and replace with the invisible zipper foot.
Remove the new invisible zipper from the package and zip open. Place the zipper down on the right side of the garment with the zipper coil lying along the seam. Pin in place using straight pins. Fit the right hand groove over the zipper coil and stitch down to the slider using a straight stitch.
Pin the opposite side of the zipper to the opposite side of the garment opening, with the coil along the seam, as in Step 3. Stitch in place to the slider using a straight stitch. After stitching, close the zipper.
Remove the invisible zipper foot and attach a regular zipper foot to the sewing machine.
Position the sewing machine needle to the left hand side. Lower the needle into the fabric at the end of the stitching and stitch the bottom of the zipper into place. Open the zipper and stitch the right and left topside of the zipper into place.