For people who prefer not to deal with the cutting, care and cleanup of a living Christmas tree each year, an artificial tree is the way to go. Artificial trees are sold at most department and home supply stores during the holiday season, and many come with decorations and tree lights already in place. If your pre-lit tree includes static light strings, you may wish to convert them to flashing lights, which can be accomplished with the installation of a single flasher bulb for each string.
Step 1
Locate or purchase a flasher bulb. Most light strings and pre-lit trees come with a small bag of replacement bulbs as well as several flasher bulbs, which are identifiable by their clear glass and red tips. If a flasher bulb didn't come with your tree, you can purchase one for a few dollars wherever Christmas lights are sold.
Step 2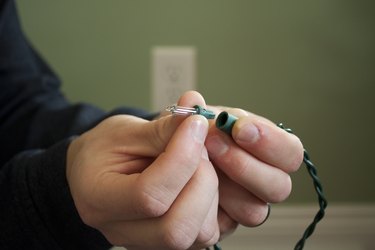 Unplug your lights and pick a bulb to replace. Choosing the bulb closest to the power plug will make it easier to find later if you want to go back to solid lights. Remove it by pulling it from its socket.
Step 3
Plug the flasher bulb into the socket. Plug your lights back into the wall, and they will begin to blink on and off after a few moments.