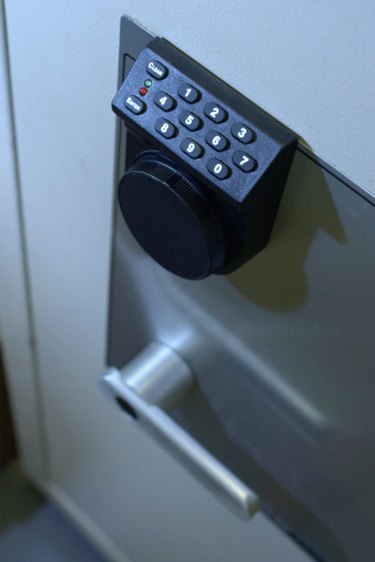 You may have irreplaceable or important documents such as old family photos, insurance paperwork, contracts or passports that you want to protect from theft by keeping them in a safe. Other items to protect in a safe include jewelry and cash, and sensitive material that you want to prevent unauthorized people from accessing. One option is to keep important items in a battery-powered Meilink safe. Regularly change the combination on your Meilink safe to help keep it secure.
Step 1
Type the numbers of your current combination on the Meilink safe's keypad. A yellow light will illuminate on the keypad while you enter the numbers. Press the "B" button, and a green light will glow. Turn the safe door's knob clockwise and open the door.
Step 2
Press and release the red button inside the door near the hinge. The safe will beep twice, and the yellow light will glow.
Step 3
Press a new combination of three to eight digits using the keypad's numbered buttons, and then press the "B" button to confirm it.
Step 4
Press the new combination once more while the door is still open, and then press the "B" button to make sure you have entered the new combination correctly. The green light will grow to confirm that you entered the right combination.
Step 5
Close the safe's door and turn the knob counterclockwise. The safe's electronic closing mechanism will then lock.
Tip
Write your new combination on a piece of paper and keep it in a safe place if you think you might forget it, but don't hide the combination near your safe.