When you need to clean your Duette blind or send it for repair, you can remove it safely without setting up an expensive appointment with a Hunter Douglas technician. Removing even the most challenging blind, the Duette Honeycomb Shade with EasyView Arch, is fast and easy if you follow a few simple steps.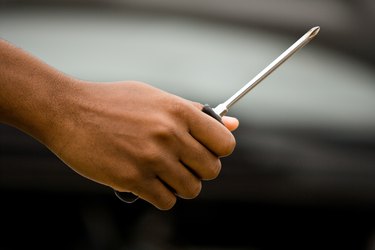 Things You'll Need
Hex Driver, 1/4 Inch

Phillips Screwdriver

Power Drill
Removing Blinds with Different Brackets
Step 1
Lower the shade completely by moving the handle all the way to the right. Remove the two screws securing the top cord guide, located above the shade, with a Phillips screwdriver or power drill with a one-quarter-inch hex driver installed.
Step 2
Remove the blind from standard installation brackets. Loosen, but do not remove, the screws holding the blind onto the installation brackets located at the underside of the headrail at the right and left side corners of the rail. Longer blinds usually have a bracket at the center; loosen the screws of all the brackets. Rotate the bottom rail up and pull the shade away from the installation brackets.
Step 3
Remove the blind from swivel brackets. Pull the push tabs to the open position. The tabs sit adjacent to the installation brackets and rest at the front exterior of the headrail. Pull the bottom rail of the shade out of the window.
Step 4
Remove the blind from end-mount brackets. Lower the shade completely. Remove the screws from both end-mount brackets. Remove the shade, with the end-mount brackets attached, from the window.
Tip
Contact Hunter Douglas at 1-888-501-8364 (9:00 AM to 8:00 PM EST) for technical support.