Things You'll Need
Paintbrushes

Paint rollers and roller sleeves

Paint tray

Bucket

Sponges

Cardboard

Feather duster

Soap

Warm water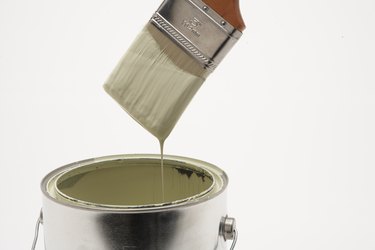 Painting vinyl shades is relatively easy. It also provides an opportunity to express your creativity. Vinyl shades can be treated like a painter's canvas on which you can paint various colors, patterns and images to achieve a decorative effect that complements the room. When you tire of looking at your artwork, simply roll the shades up. Your kids can have fun decorating the shades in their rooms.
Step 1
Remove dust and small debris from the shades with a feather duster. Fill a bucket with a mixture of soap and warm water. Use a sponge to wash the shades. Allow them to dry and then remove them from the windows.
Step 2
Put cardboard down in your work space and set the shades down on top of the cardboard. Avoid painting in direct sunlight.
Step 3
Paint the shades. A good-quality interior flat latex paint will do the job. If you are painting single color, cut in the edges with a brush and then paint the majority of the shade with a roller. If you have chosen a more creative approach, several other techniques are available. Outline the basic design with a paintbrush or a pencil. Paint the primary background color with a roller or a sponge. Dip the sponge into the paint tray and apply it to the shade. Rotate the sponge as you apply the paint to achieve a faux or swirling affect. Once the background is painted, fill in the other details with sponges and paintbrushes. Allow the shades to dry.
Step 4
Place the shades back in the windows.